CopperWAY-Bis-HV3
CopperWay-Bis-HV3 provides secure communications to 20KV electric substations over fiber optic and pilot cables with megabit throughput and it delivers 6x Ethernet interfaces to connect all pieces of equipment in the substation.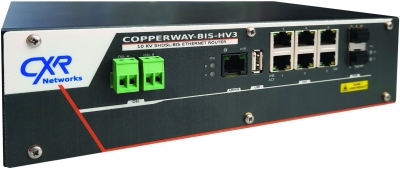 CopperWay-Bis-HV3 is especially suited for the electric substations where it delivers Ethernet connectivity with up to 15 Mbps of bandwidth over copper pilot cables with extended 10 KV isolation, and also Gigabit Ethernet communications over 2x fiber optic interfaces. It supports any topology such as point to point, multipoint drop-insert bus, resilient ring.
CopperWay-Bis-HV3 brings 6x Ethernet ports to connect the substation systems that may be based on any protocol such as IEC-61850, DNP2, etc.

SHDSL-Bis technology supports 192 kbps up to 15 Mbps bandwidth over a copper pair. This bandwidth and VLAN / QoS features support all application traffics of several substations in a multipoint group.
In the substation, CopperWay-Bis-HV3 delivers 6x Ethernt ports to connect all systems. A digital input and a relay output perform simple functions such as alarm notification when the substation door is opened.
CopperWay-Bis-HV3 supports many management features over IP including Raidus authentication. A USB port provides automatic configuration and firmware updates from a USB memory stick.
CopperWay-Bis-HV3 fits perfectly in the latest IT systems of the Utility infrastructure. It embeds the latest cybersecurity protocols including IPSec with IKEv2 and Hub-and-Spoke, SCEP for X509 certificat management, IP v4/v6 protocols and their 6/4 tunnels, a firewall with filtering functions, etc.
Major utilities have already deployed CopperWay solutions in their network to support their control, management and maintenance communications. They could leverage on existing pilot copper cables and later fiber optic cables and they benefit from highly secured communications and features to respond to the new stakes of cybersecurity.
SHDSL copper interfaces 
2x interfaces, East / West
Resiliency, by-pass relay
EFM SHDSL.Bis, up to 15 Mbps per copper pair
Ethernet interfaces 
2x SFP sockets for Gigabit Ethernet modules 
6x Ethernet RJ45 interfaces, 10/100BT
Protocols
Layer 2 Ethernet switch, VLAN, QoS, 802.1X
IP v4/v6 router, RIP, OSPF
OpenVPN, IPSec, IKEv2, Hub-and-Spoke
NTP, SCEP
Firewall
Management:  SSH, Https, Snmp v3, Syslog, Radius
Other characteristics
USB M/S interface for CLI and memory stick
Power supply : 12-24 Vdc
Typical power consumption < 7W
Operating temperature : -20 to +70 °C
Compliance : CE, EN61000-6-2/-4, EN-61328-1, IEC-60850-3
COPPERWAY-BIS-HV3      CopperWay-Bis-HV3, switch and IPSec router for Ethernet distribution over fiber and 20 KV pilot cables