CopperWAY-Bis-6TTX
The CopperWay-Bis-6TTX is a fiber optic and copper Add-and-Drop Ethernet Access Device that delivers high speed Ethernet services on existing copper pairs and fiber optic infrastructure.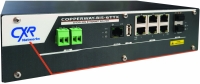 The CopperWay-Bis-6TTX is  a layer 3 router with extensive cybersecurity features to respond to the most stringent requirements of networks. This includes IPSec tunnelling, X.509 authentication certificates with SCEP PKI enrolment protocol, firewall filtering. It embeds a Secure-Element for enhanced authentication certificate control, strong encryption of stored information and Secure-Boot to ensure total security of both data and software.
The CopperWay-Bis-6TTX delivers 6x RJ45 Ethernet ports and 2x gigabit Ethernet SFP sockets that can also be used as WAN interfaces when fiber optic cables are available. The CopperWay-Bis-6TTX offers also 1x Digital Input and 1x Relay Output to control simple devices or detector such as the substation door alarm contact to send an immediate alarm to the security control services.
The CopperWay-Bis-6TTX embeds all IP protocols to fit in the latest network management and security architecture of Critical IT infrastructure. Such protocols include IPSec with IKEv2 and Hub-and-Spoke functions, SCEP, etc.
Intelligent transport network: Surveillance, Protection, Remote Control, Metering and Administration.

CopperWay-Bis-6TTX connects all the equipment over a communication infrastructure made of fiber optic cables to the data center. It delivers many Ethernet ports to connect all  systems. It embeds very strong security featuresi ncluding IPSec, X509 authentication and a hardware secure element.  
2x interfaces, East / West
Bis : TC-PAM 16/32/64/128
Throughput : Nx64kbps, 192 kbps to 15.4 Mbps
Encapsulation EFM, 802.3ah
Impedance 120 Ohms
Hardware resiliency : by-pass relay
Screw bloc
Robust metallic enclosure , DIN rail mounting
Dimensions: 280x150x70 mm
Weight : 1.3 kg
Power supply: 2x inputs, 12-24 Vdc
Max power consumption : 12 W
Typical power consumption : 7W
Operating temperature : -20 to +60 °C, fan-less
Hygrometry : 0 to 90%, non-condensing
Compliance : CE, EN-62368-1, EN-61000-6-2, EN-61000-6-4
MTBF : 242,000 Hours
| | |
| --- | --- |
| CWAY-BIS-6TTX-MC2 | CopperWay-Bis-6TTX secure router |
| PROTEC-1DSL-RJ45 | Lightning protection, 2x kits for each CopperWay |
| SFP-GSX-MM | Gigabit SFP module, Multi-Mode 850 nm, 500m, LC connector |
| SFP-GLX-SM20/40 | GE SFP module, Single-Mode 1310 nm, 20 or 40 km, LC connector |
| SFP-GLX-SM80 | GE SFP module, Single-Mode 1550 nm, 80 km, LC connector |
| PS-DIN-12V-40/75/120W | DIN power supply, 110-230 Vac to 12 Vdc, power 40, 75 or 120 W |