FiberWAY-GE
FiberWay-GE is a ruggedized Gigabit Ethernet switch aimed at connecting Mission Critical remote stations with Ethernet and RS232 communication interfaces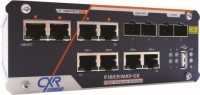 FiberWay-GE embeds 4x SFP optical interfaces at Fast and Gigabit Ethernet speeds. Multiple daisy-chained and Ring topologies bring total flexibility for existing Fast Ethernet applications and new Gigabit service development. FiberWay-GE can also be equiped with specific SFP modules such as a VDSL bridge.
FiberWay-GE provides remote stations with all required communication interfaces: 4x Ethernet interfaces with POE 30 W for feeding IP cameras or Wi-Fi Access Points, and 4x serial ports that can be set for RS232 or RS485 to connect to older systems and any asychronous communication protocol.
Security and resiliency are the heart of the FiberWay-GE and its extensive security features at physical and authentication layers, user login and encryption.
FiberWay-GE completes the CopperWay range of products that has acquired a strong reputation overs years for reliability and security performances in many Mission Critical Networks woldwide.
FiberWay-GE embeds four 100FX and Gigabit SFP optical interfaces for mission critical communications in Transportation, Smart-Citiy, highway, community, Defense and Utility networks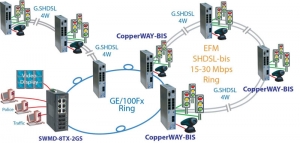 Each remote station is connected in a mixed topology of Fast and Gigabit Ethernet optical cables. FiberWay-GE provides 4x Ethernet with POE+ to Ethernet equipment such as IP cameras or Wi-Fi Access Points. It brings 4x RS232/RS485 serial ports to older systems in Utility or Intelligent Transportation System networks.
- 4x optical SPF sockets, 2x 100FX and 2x Gigabit Ethernet SFP
- 4x 10/100BT Ethernet interfaces with POE+
- 4x RS232/RS485 serial interfaces, 1.2 to 115.2 kbps
- 4x Digital inputs and 1x relay output
- 2x power suply inputs, 12-24 or 24-48 Vdc
- DIN rail format
- Dimensions: 154x144x44 mm
- Operating temperature: -20 to +70 °C
FiberWay-GE-MC          4x SFP optical sockets, 4x Ethernet ports with POE+, 4x RS232/RS485 interfaces, two 24-48 Vdc power inputs
CWAY-BIS-GE-4W-MC    2x four-wires SHDSL interfaces and 4x SFP optical sockets, 4x Ethernet ports with POE+, 4x RS232/RS485 interfaces, two 24-48 Vdc power inputs