CopperWAY-Bis-4TTX
The CopperWay-Bis-4TTX is an access router delivering Ethernet and digital interfaces over a mixed network of pilot cables and fiber optics.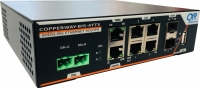 The CopperWay-Bis-4TTX is a secure router that encrypts data using IPSec-type protocols. It can also operate as a Layer 2 switch, with full QoS, VLAN and traffic control capabilities.
The CopperWay-Bis-4TTX provides a very high level of security for critical networks, thanks to several security levels. Application flows are encrypted using AES-128/256 protocols. Network access is 802.1X authenticated, and system administration is protected by Radius authentication. To reinforce these security mechanisms, tamper-proof electronics are integrated into the hardware to secure sensitive data (encryption certificates) as well as the system's internal software.
The CopperWay-Bis--4TTX provides all necessary communication interfaces. It provides 4 Ethernet interfaces, 2 Gigabit Ethernet SFPs, a digital input and relay output with dry contacts, and an RS232/485 terminal port.
The CopperWay-Bis--4TTX features all IP protocols for ideal integration into the latest generations of information system infrastructure, including IPSec with IKEv2 and Hub-and-Spoke, SCEP.
Intelligent transport network: monitoring, protection, remote control, metering and administration.

The CopperWay-Bis-4TTX connects equipment with Ethernet interfaces at every point of a copper pair and/or fiber optic infrastructure. It provides all the Ethernet communication interfaces required by business applications. It provides a high level of hardware and software security for these critical applications.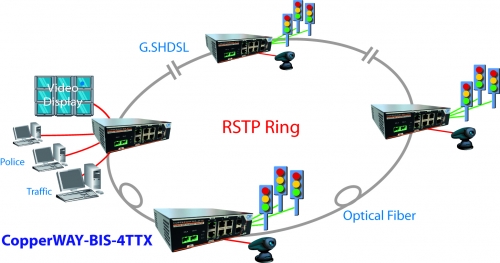 SHDSL line interfaces
2x interfaces
SHDSL.Bis: TC-PAM 16/32/64/128
Data rate: Nx64kbps, 192 kbps at 15.4 Mbps
EFM encapsulation, 802.3ah
Impedance 120 Ohms
Hardware resilience via bypass relay
Screw terminal connection
General features
Stainless steel case, DIN rail clip
Dimensions: 168x145x44 mm (LxDxH)
Weight: 950g
Power supply: 1 x 12-24-48 Vdc input
Max. power: 12W
Typical power: 8W
Operating temperature : -20 to +60°C, without fan
Humidity: 0 to 90% non-condensing
Conformity: CE, EN-62368-1, EN-61000-6-2
MTBF: 242,000 Hours
| | |
| --- | --- |
| CWAY-BIS-4TTX-MC | Secure router CopperWay-Bis-4TTX-MC |
| PROTEC-1DSL-RJ45 | Lightning protection box, 2x par Cway |
| SFP-GSX-MM | SFP GE, Multi-Mode 850 nm, 500m, LC |
| SFP-GLX-SM20/40 | SFP GE, Single-Mode 1310 nm, 20 or 40 km, LC |
| SFP-GLX-SM80 | SFP GE, Mono-Mode 1550 nm, 80 km, LC |
| PS-DIN-12V-40/75/120W | DIN Power Supply, 230 Vac / 12 Vdc, 40W, 75W or 120W |