SpeederLanBis-GE
SpeederLanBis-GE is a high speed Ethernet First Mile extender that delivers 60 or 120 Mbps symmetrical throughput over 4 or 8 copper pairs and a Gigabit optical interface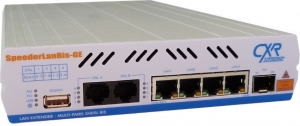 SpeederLanBis-GE enables very high speed symmetrical Ethernet services over 4 or 8 copper pairs according to the G.SHDSL.Bis / G.991.2 and IEEE 802.3ah Ethernet First Mile standards. Its high speed 15 Mbps per pair and QoS / VLAN Ethernet protocols helps Internet Service Providers and other industries to extend Ethernet networks with high speed symmetrical bandwidth over long distances.
SpeederLanBis-GE is a unique product on the market thanks to 
a full Gigabit Ethernet architecture that produces best performances and scalability,
a great SHDSL interface flexibility that supports any point to point, bus / daisy-chain, ring or star topologies,
an option for 2x redundant power inputs and converters with 24-48 Vdc range.
SpeederLanBis-GE provides 4x Gigabit Ethernet 10/100/1000BaseT ports for Ethernet network access and management. One Gigabit optical SFP port gives very long distance and Gigabit speed communications.
SpeederLanBis-GE is a high performance Gigabit Ethernet switch with a complete set of protocols including VLAN and Quality of Service.
SpeederLanBis-GE supports any topologies with up to 120 Mbps point to point, multipoint, up to 60 Mbps ring, or even star organization to aggregate 8 links from remote equipment or networks.
SpeederLanBis-GE suits most environment requirements thanks to its compact and robust metallic enclosure or rack card format with a choice of 110-230 Vac mains or 48 Vdc power options. It is managed from a local USB port or the Ethernet network with SNMP, SSH, HTTP/HTTPS protocols and a user friendly Web interface. Automatic software update and configuration file transfers can be easily performed from a USB memory stick.
Point to Point: multi-pair SHDSL aggregation for symmetrical high speed Ethernet communications
Multi-pair bonding produces very high speed communication and up to 60 or 120 Mbps symmetrical throughputs to carry Ethernet traffic for Ethernet service providers, mobile backhaul, WIFI Access Points or other industry applications.
The adaptive connection adapts automatically to the copper line length and quality to reach best possible speed. Up to 120 Mbps or up to 8 km distance at 1.5 Mbps can be performed on 0.4 / AWG-26 copper cables.

Bus and Ring topologies
SpeederLanBis-GE provides Ethernet access over a Bus (daisy-chain) network with 60 Mbps SHDSL and 1 Gigabit optical Ethernet throughput.
It connects any kind of equipment (RTU, controller, SCADA, metering, display, etc.) in an industry network such as Intelligent Transport Systems (ITS), electricity or water distribution Utility networks.
The network architecture can be easer a daisy-chain bus or a resilient Ring with STP / RSTP protocol.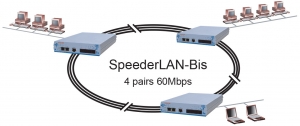 Multiple DSL aggregation and Star topology 
SpeederLanBis-GE can concentrate up to 8 SHDSL.Bis lines from remote equipment or networks. It operates as a mini IP DSLAM for a much lower cost and size.

SHDSL.Bis interfaces 
4 or 8x interfaces SHDSL/Bis, G.991.2, IEEE 802.3ah
Throughput: 192 kbps to 15 Mbps per pair
Coding: TC-PAM 16/32/64/128
Connection modes: 4x 2 pairs, 2x 4 pairs, 4 pairs, 2 pairs, 1 pair
Topologies: 1 to 1, 1 to 2, 1 to 4, 1 to 8
Ethernet interfaces 
1x optical Gigabit Ethernet port, SFP 
4x Gigabit Ethernet 10/100/1000 ports, RJ45
Protocols
VLAN, QoS, 802.1X, STP, RSTP
Management
Local USB port and Ethernet / IP
SSH, SNMP, HTTP, HTTPS, SYSLOG, FTP
Web interface
USB memory stick interface for software and configuration management
Environment
Power supply: 110-230 Vac, single or dual redundant 24-48 Vdc power iputs and converters
Desktop product : 260x160x35 mm
Operating temperature : -10 to +60 °C 
SpeederLanBis-GE-8I      Standalone product with 8x SHDSL pairs, 110-230 Vac power input
SpeederLanBis-GE-8C     Standalone product with 8x SHDSL pairs, 24 - 48 Vdc power input
SpeederLanBis-GE-8CD    Standalone product with 8x SHDSL pairs, two 24 - 48 Vdc power inputs and converters
SpeederLanBis-GE-8R     Rack card for 19'' AMS chassis, 8x SHDSL pairs
SpeederLanBis-GE-4I      Standalone product with 4x SHDSL pairs, 110-230 Vac power input
SpeederLanBis-GE-4C     Standalone product with 4x SHDSL pairs, 24 - 48 Vdc power input
SpeederLanBis-GE-4R     Rack card for 19'' AMS chassis, 4x SHDSL pairs