CopperWAY-Bis-GE
CopperWay-Bis-GE delivers 60 Mbps Ethernet bandwidth over existing copper cables and 2.2 Gigabit over optical fiber for connecting Mission Critical remote stations with Ethernet and RS232 communication interfaces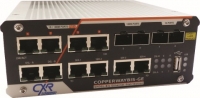 CopperWay-Bis-GE enables significant cost reductions and leverages on existing copper cables to deliver up to 60 Mbps Ethernet bandwidth. It embeds 4x SFP optical interfaces at Fast and Gigabit Ethernet speeds. Daisy-chained and Ring topologies over both copper and optical cables bring total flexibility for existing applications and new service development.
CopperWay-Bis-GE provides remote stations with all required communication interfaces: 4x Ethernet interfaces with POE 30 W for feeding IP cameras or Wi-Fi Access Points, and 4x serial ports that can be set for RS232 or RS485 to connect to older systems and any asychronous communication protocol.
Security and resiliency are the heart of the CopperWay-Bis-GE and its extensive security features at physical and authentication layers, user login and encryption, but also its unique physical protection circuit of DSL lines. The CopperWay range of products has acquired a strong reputation overs years for reliability and security performances in many Mission Critical Networks woldwide.
CopperWay-Bis-GE brings excellent CAPEX and OPEX reductions in leveraging on existing copper cables and thanks to extensive network management functionalities that reduces deployment and maintenance efforts.
CopperWay-Bis-GE embeds two EFM SHDSL.Bis interfaces with 2 wire operation that deliver up to 120 Mbps Full-Duplex Ethernet bandwidth, and four 100FX and Gigabit SFP optical interfaces for mission critical communications in  Transportation, Smart-Citiy, highway, community, Defense and Utility networks

Each remote station is connected in a mixed topology of copper and optical cables. CopperWay-Bis-GE provides 4x Ethernet with POE+ to IP cameras or Wi-Fi Access Points. It brings 4x RS232/RS485 serial ports to older systems in Utility or Intelligent Transportation System networks.
- 2x SHDSL.Bis interfaces, 2 wire, EFM 802.3ah, 15.4 Mbps per pair
- 4x optical SPF sockets, 2x 100FX and 2x Gigabit Ethernet SFP
- 4x 10/100BT Ethernet interfaces with POE+
- 4x RS232/RS485 serial interfaces, 1.2 to 115.2 kbps
- 4x Digital inputs and 1x relay output
- 2x power suply inputs, 12-24 or 24-48 Vdc
- DIN rail format
- Dimensions: 154x144x44 mm
- Operating temperature: -20 to +70 °C
Part Number
Eth
SFP
DSL
SL RS232/485
I/O
POE
Power
CWayBis-GE-2W-MC2
4x 100BT
2GE + 2FX
2x2W
2
4 in + 1 out
 - 
12-24
CWayBis-GE-2W-MC1
4x 100BT
2GE + 2FX
2x2W
2
4 in + 1 out
 - 
24-48
FiberWay-GE-MC1
4x 100BT
2GE + 2FX
 - 
4
4 in + 1 out
4
24-48
PS-DIN-12V-40/75/120W
Power supply, 110 / 230 Vac to 12 Vdc, 40, 75 or 120 W, -20 à +70 °C range
ACDC-H-48V-240W-DM
Power supply, 110 / 230 Vac to 48 Vdc, 180 W, -20 to +70 °C range
PROTEC-1DSL-RJ45
Lightning protection for a DSL interface made of one copper pair
PROTEC-2DSL-RJ45
Lightning protection for a DSL interface made of two copper pairs