SWDL-H-2GPS-2USF-B
It is now possible to feed POE switches from a 12 Vdc battery source !
SWDL-H-2GPS-2USF-B delivers 2x POE+ 30W / POE++ 60W ports and 2 optical SFP interfaces in a DIN-rail ruggedized design for -40 to +75°C operation.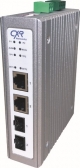 SWDL-H-2GPS-2USF-B delivers 2x Gigabit POE ports from 2x optical SFP's.  It differentiates by its dual power supply inputs in the wide range of 12 to 57 Vdc. The 12 or 24 Vdc power inputs enable significant time and cost savings and improved battery power backup. 

SWDL is an automatic switch which SFP ports operate in three different modes according to DIP-switch settings. First mode provides standard switching operation to deliver multipoint or daisy-chain POE accesses. Second mode is a point-to-point connection over two fiber links with 1+1 optical protection. And third mode operates as two separate POE media converters with total isolation of Ethernet traffics.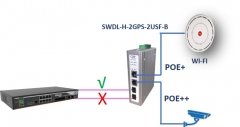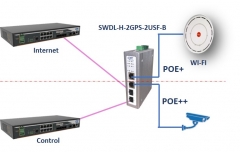 SWDL are ruggedized products designed for extended temperature ranges from -40 to +75 °C with immunity against chocks, vibrations and high electromagnetic interferences.
Ethernet

2x Gigabit optical SFP ports, 100FX/1000GX
2x Gigabit Ethernet ports with POE
POE : 2x POE+ 30W, 1x POE++ 60W on option
Frame size : 9 KB
Optical operation mode 
Switch : normal switch mode, linear bus or daisy-chain operation
Backup : point-to-point connection with 1+1 fiber protection
Dual converter : isolation between SFP-1 to POE-1 and SFP-2 to POE-2
Environment
Alarm relay
Dimensions: 36 x 110 x 135 mm 
Weight : 0,7 kg
Operating temperature range: -40 to +75 °C
Power supply : two inputs, 12 to 57 Vdc 
SWDL-H-2GPS-2USF-B                 Ruggedized Gigabit POE switch, 2x GE ports with POE+ 30W 802.3af/at and 2x GE SFP ports, 12 to 57 Vdc power supply
SWDL-H-2GPSP-2USF-B               Ruggedized Gigabit POE switch, 1x GE POE++ 60W and 1x GE POE+ 30W ports, and 2x GE SFP ports, 12 to 57 Vdc power supply