SWMDL-H-8GPS-2CB-B
CXR SWMDL-H-8GPS-2CB-B Industrial PoE Switch are the Fast & Gigabit Ethernet 10/100/1000Base-X Industrial PoE Switch.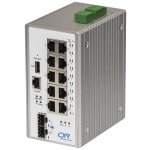 It switches the traditionally twisted-pair RJ-45 cable into various fiber optics media. SWMDL-H offer easy management of uplink port (10/100/1000Mbps RJ-45 + 100/1000 SFP Slot). The fiber optical port of SWMDL-H can support various connection distances via multi-mode, single-mode fiber or Bi-directional single-mode fiber for the deployment to the control room, warehouse or factory.
The SWMDL-H-8GPS-2CB-B industrial PoE switch are designed for deployment at industrial sites. With Din-Rail mounting, you can easily mount the Industrial Switch at your sites such as factory or warehouse. The two terminal Blocks can provide power redundancy to prevent any possible power outage and digital output to serve as an alarm.
The SWMDL-H-8GPS-2CB-B industrial PoE switch provide perfect solution for delivering power over Ethernet for IP cameras, WI-FI access Point or IP Phones at an extended operating temperature (-40°C~75°C) to withstand against harsh environment for better performance.
SWMDL-H-8GPS-2CB-B are fully c ompliant wit h IEE E st andards such as IEEE802.3/803.3u/802.3ab/802.3az to ensure interoperability between network devices.
The SWMDL-H-8GPS-2CB-B industrial PoE switch provide easy management ways via Telnet CLI and SNMP. Combined with rich L2+ features and reliable management functions, the SWMDL-H-8GPS-2CB-B will significantly help save OPEX (operational cost) for nertwork administrators.
Point-to-Point Fiber Connectivity under Harsh Surroundings.
Long-Distance IP Surveillance Network Deployment.
Factory, Parking Lot, ITS, Smart City Network Deployment.
Power Over Ethernet 120w or 240watts PoE Budget
Standards: IEEE 802.3 820.1
Specification: MAC Addresse table: 16K, non blocking switching: 20Gbps, Jumbo frame: 9K Bytes
Layer 2 Switch / VLAN / QoS / Network Redundancy / Multicast / Security / Management / EMC Safety
SWMDL-H-8GPS-2CB-B
Layer2 manageable DIN-Rail switch,hardened -40 to +75°C operating temperature, 8x 10/100/1000BaseT PoE PSE ports 30W 802.3at, 2x Gigabit universal combo ports RJ45 and SFP w/o SFP, VLAN tagging 802.1q, Q-in-Q, QoS 802.1p, trunking, RSTP, SNMP V3, redundant input power terminal bloc 24-57Vcc with Booster