SWD-H-4TPS-4TX
SWD-H-4TPS-4TX is a ruggedized Ethernet switch with DIN rail mounting that delivers 8 Fast Ethernet ports, four of which deliver 802.3ah POE power supply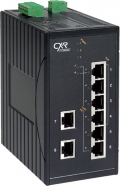 SWD-H-4TPS-4TX is a ruggedized DIN Rail Ethernet that delivers four 802.3ah POE ports to feed Ethernet equipment with a 15 W power budget. It provides a total of 8 Fast Ethernet ports with options for one or two 100FX optical interfaces.
It is a ruggedized equipment with an extended operating temperature range from -40 to +75 °C with strong immunity to electromagnetic interference. It has two power supply inputs for resilience to power faults.
SWD-H-4TPS-4TX is qualified for rolling transport system with compliance to the EMark E4 standard.
The range of products is made of a 8x RJ45 ports model and options with 1 or 2 optical ports for mono-mode or single-mode fiber to design a long reach and EMI resistant network.
SWD-H-4TPS-4TX is a high quality non-manageable automatic switch. It is very easy to install and operate in any application that does not require Ethernet access device management. It comes as a compact DIN rail format product, 65 mm wide.
SWD-H-4TPS-4TX is a high reliability fan-less industrial design aimed at serving the most stringent industry requirements.
Ethernet 

6, 7 or 8x 10/100BaseT Ethernet ports, RJ45
2, 1 or 0x 100FX optical Ethernet port, SC connectors 
4x POE 802.3af ports, 15 W / port
Environment
Power supply: two inputs, 12 to 48 Vdc
Size: 65 x 110 x 135 mm
Operating temperature range: -40 to +75 °C
EMC: EN61000-6-2 
Transport: E-Mark E4
SWD-H-4TPS-4TX                Ethernet switch, 4x POE and 4x RJ45 ports
SWD-H-4TPS-3TX-FM2      Ethernet switch, 4x POE, 3x RJ45 and 1x 100FX optical port, Multi-Mode 2 km
SWD-H-4TPS-3TX-FS20    Ethernet switch, 4x POE, 3x RJ45 and 1x 100FX optical port, Single-Mode 20 km
SWD-H-4TPS-2TX-2FM      Ethernet switch, 4x POE, 2x RJ45 and 2x 100FX optical ports, Multi-Mode 2 km
SWD-H-4TPS-2TX-2FS20  Ethernet switch, 4x POE, 2x RJ45 and 2x 100FX optical ports, Single-Mode 20 km