HX9400R-PTN
This system is evolving to STM16 / OC48 and can work in SDH or SONET mode depending on the software selection and choice of tributary cards.
This modular high density system can be configured with two aggregate rings STM1-4/OC3/12, up to 3 sub-rings STM1/OC12 SNCP/UPSR, or 6 STM1/OC12 MSP (1+1) or 1 STM4/OC12 MSP (1+1). Full cross-connect at VC11, VC12, VC3 to VC4 is provided. It is a true SDH/SONET HUB for the transport and distribution of PDH E1/T1/E3/DS3 links and Ethernet/Gigabit Ethernet LAN with QoS and high speed protection.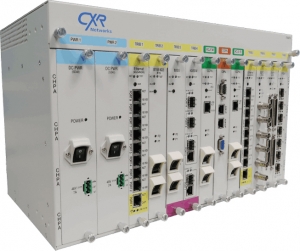 The HX9400R-PTN-6U tributary cards include:
252 x E1 or T1,
12 xDS3 or E3
32 x10/100BaseT or 6 x1000BaseT
6 x STM1/OC3 with MSP (1+1)
3 x STM1/OC3 SNCP sub-ring,
1 x STM4/OC12 with MSP (1+1
32 x 4 RS232 asynchronous
or the mix of this card with 8 slots
The redundant central cards of the HX9400R-PTN system integrate the CPU, the cross-connect and the independent support of two SFP modules per card. The 4 SFP on the two CC4 (CPU) cards can be equipped with STM4/OC12 or STM1/OC3 modules to provide the following aggregate configurations:
In SDH
2 Ring STM1/4 SNCP or
1 Ring STM1/4 SNCP and MSP (1+1) with 4 fiber or
2 Bus STM1/4 MSP (1+1) or
1 Ring STM1/4 SNCP and 1 Bus MSP (1+1)
In SONET
2 Ring OC3/12 UPSR or
1 Ring OC3/12 UPSR and MSP with 4 fiber or
2 Bus OC3/12 MSP (1+1) or
1 Ring OC3/12 UPSR and 1 Bus MSP (1+1))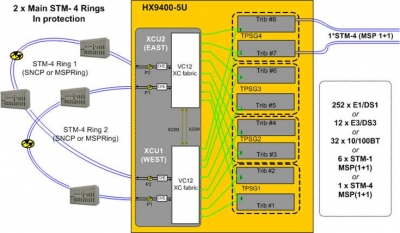 The HX9400R-PTN acting as a SDH Hub has a combined capacity (aggregates + tributaries) as a Terminal Multiplexer of 10 STM1/OC3 protected in MSP (1+1), or as an Add and Drop Multiplexer of 8 rings STM1/OC12 protected in SNCP/UPSR.
The HX9400R-PTN can be upgraded to an HX9416R by exchanging the CPU/Cross-connect/Aggregate card to provide a system with 2 STM16/OC48 rings of 2.4Gbps each.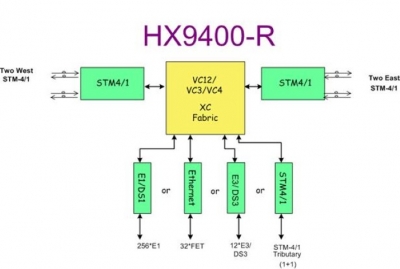 The HX9400R-PTN is deployed in Transport (Train/Metro/Airport) Energy (Oil/Gas/Electricity), Defense and Telco networks to distribute TDM interfaces and Ethernet or to concentrate TDM/PDH multiplexers with multiple analogue/voice/serial/video/SCADA tributaries.
The HX9400R-PTN, as with all of the CXR New Generation SDH/SONET HX9000 product family, is transporting the Ethernet/Gigabit Ethernet in EoS. This equipment supports GFP and VCAT for the conditioning of Ethernet traffic and LCAS protocol to optimise the variation of the circuit bandwidth. The utilisation of NG SDH/SONET allows for the transport of Ethernet traffic with a high level of security and a permanent QoS. The layer 2 switch cards provide E-line or point to point transport of Ethernet, and E-LAN or multipoint LAN over the SDH/SONET pipe. Each Ethernet WAN circuit can use n VC12/VC11 (n 2.2Mbps) or n VC3 (n 47Mbps) or n VC4 (n 150Mbps) up to 4 VC4.
The HX9400R-PTN can be managed locally over a console port or LAN port as a craft interface with menu driven language or remotely over the DCC channel in the SDH/SONET fiber or in Ethernet In-Band or Out-Band with Telnet or SNMP.
CXR provides two options for centralized administration: a basic NMS called CXRView-Plus and a more powerful and sophisticated solution (TMS) for larger system called CXR-iNMS.