FOCD-I
FOCD-I is a ruggedized Ethernet media converter designed for critical environments and DIN rail installation. It is offered with various options of Fast and Gigabit speeds, with or without POE+, manageable or automatic, embedded or modular SFP optical interface.
FOCD-I connects any Ethernet equipment over an optical fiber from a RJ45 copper interface : IP camera, controller, RTU, or any other system having an Ethernet communication interface.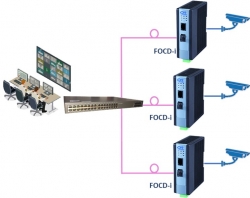 The aggregation site is made of an Ethernet switch with optical interfaces (SWM-3640) or a 19'' chassis hosting a number of media converters (RACK-MEDIA2).
Fast Ethernet models
RJ45, 10/100BaseT
100FX optical interface
Gigabit Ethernet models
RJ45, 10/100/1000BaseT
1000FX optical interface
POE models
Manageable models
Web interface 
SNMP
DHCP Client
Automatic models
DIP-switches to set autonegociation, link-Alarm and Link-Passthrough
Other characteristics
Operating temperature : -20 to +60°C
2x power supply inputs : 12 to 48 Vdc (48Vdc for POE models)
Mounting : DIN rail, whall
Size : 93x105x35 mm (PxHxL)
Weight : 0.4 kg
FOCD-I-TGX-SFP           Gigabit Ethernet media converter, slot for SFP module, DIN rail mounting clip, 12 to 48 Vdc power input
FOCMD-I-TGX-SFP       Gigabit Ethernet Manageable media converter, slot for SFP module, DIN rail mounting clip, 12 to 48 Vdc power input
FOCD-I-TX-SFP             Fast Ethernet media converter, slot for SFP module, DIN rail mounting clip, 12 to 48 Vdc power input
FOCD-I-TGPS-SFP        Gigabit Ethernet media converter with POE, slot for SFP module, DIN rail mounting clip, 48 Vdc power input
FOCMD-I-TGPS-SFP    Manageable Gigabit Ethernet media converter with POE, slot for SFP module, DIN rail mounting clip, 48 Vdc power input
FOCD-I-TPS-SFP          Fast Ethernet media converter with POE, slot for SFP module, DIN rail mounting clip, 48 Vdc power input