FOCD-I-TPS
Optical 100FX to copper 10/100BaseT with POE PsE converter.
Optical 1000SX/LX to copper 10/100/1000BaseT with POE PsE converter.
The FOCD-I-TPS/FOCD-I-TGPS is used to connect a remote equipment through an optical link and delivers a POE power feeding at its 10/100BaseT or 10/100/1000BaseT interface.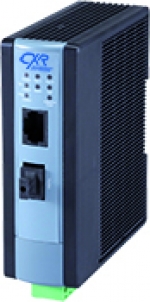 The FOCD-I-TPS are supplied in DIN rail industrial plastic case and support -10 to +60°C operating temperatures range. The POE source deliver up to 15,4W according to IEEE802.3af standard to feet cameras, hotspot Wifi access point, IP phone...
These automatic converters are set by micro-switches. They support the ''Link Alarm'' or "Link Fault Pass Through" function to forward the Ethernet link status to the next Ethernet device.It is supporting 9K jumbo frame.
A port fault alarm on terminal block is used to connect an alarm devices suck speakers or LEDs to alert users when TP ou FO port link is disconnected.
The FOCD-I-TPS owns two terminal block DC 48V inputs and one jack input. AC/48V adaptor is offered in option.