Rack-Media 16
The RACK-MEDIAS16 can hold up to 16 FOC Ethernet media converters.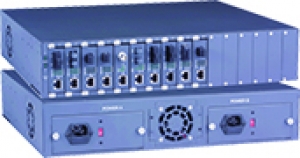 This chassis is a smart solution for multiple media converters concentration with a choice of single or redundant power supplies and fans. . The FOC, FOC-SFP, FOC-Mand FO-GTX-SFP are compatible with this chassis.
The 19'' 2U chassis is available in two versions: a modular RACK-MEDIAS16Nsolution integrates one or two modular 110/230 Vac or 48 Vdc power supplies with redundancy and load sharing.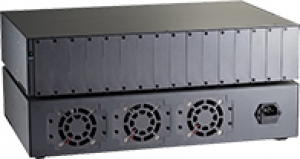 And an economical RACK-MEDIAS16S version embeds a fixed 110/230 Vac power supply and 3 fans.
Ordering Information:
RACK-MEDIA16N: Modular 19'' 2U chassis with 3 fans, 2 slots for power modules withoutpower supply, 16 slots for FOC-xxxx media converters,
RACK-MEDIA-AC: 110/230 Vac power module for for RACK-MEDIA-16N, max 2,
RACK-MEDIA-DC: 48 Vdc power module for RACK-MEDIA-16N, max 2,
RACK-MEDIA16N-2AC: bundle of a RACK-MEDIA16N and 2x RACK-MEDIA-AC power modules,
RACK-MEDIA16S: economic 19'' 2U chassis with one fixed 110/230 Vac power supply and 3 fans