FOC2
FOC2 is a new generation Ethrenet Media Converter with enhanced integration and management. It provides Ethernet extension and fiber optic network access.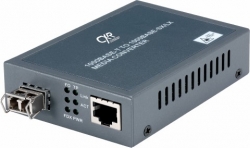 FOC2 is a new series of Ethernet Media Converter that are more compact, cost effective and flexible.
FOC2 is an automatic and very affordable product. FOC2I and FOC2O are http and snmp manageable. FOC2O can be remotely controlled via OAM frames.
Manageable converters provide VLAN, demarcation Provider Birdge or Q-in-Q, and remote Ethernet Link status.
Converters are offered with a broad choice of SFP optical modules.
Up to 18 FOC2 converters can fit in a RACK-MEDIA2-18 chassis with redundant power supplies and management capabilities.

FOC2-TTX-SFP             10/100BT to 100FX SFP converter
FOC2-TGTX-USFP       10/100/1000BT to 100FX SFP or GbE converter
FOC2I-TTX-SFP             locally manageable 10/100BT to 100FX SFP converter
FOC2I-TGTX-USFP       locally manageable 10/100/1000BT to 100FX or GbE SFP converter
FOC2O-TTX-SFP             locally and remotely manageable 10/100BT to 100FX SFP converter
FOC2O-TGTX-USFP       locally and remotely manageable 10/100/1000BT to 100FX or GbE SFP converter
Products with embedded optical transceiver: please contact CXR