SWCE-3232
SWCE-3232 is a MEF CE2.0 compliant, 10 Gigabit Carrier Ethernet switch and Ethernet Demarcation Device that provides 24x GbE ports, 4x 2.5GE SFP ports and 4x 10 Gigabit ports with IP v4/v6 OSPF Layer 3 switching capabilities

SWCE-3232 is a Carrier grade 10 Gigabit Ethernet switch that complies with the Metro Ethernet Forum CE 2.0 standard. It provides 4x 10GE SFP+ slots, 4 multi-rate 2.5GE / GE / 100FX SFP slots, and 24x Gigabit Ethernet RJ45 ports with Layer 3 OSPF routing capabilities.
SWCE-3232 is a compact industrial product aimed at serving CE 2.0 Carrier Ethernet Access and Aggregation network requirements with 1GE, 2.5GE and 10GE bandwidth. It also suits other industry requirements such as Smart Cities, Public Transportation, or oil and gas, water and electricity Utility communication networks.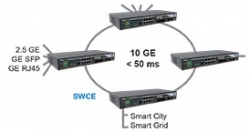 SWCE-3232 is based on last generation Ethernet communication processors and ASIC. It embeds a number of hardware accelerators for wirespeed Ethernet switching, routing, and Operation And Maintenance traffic control (OAM). This Service-Aware architecture provides the SWCE with best performance whatever Ethernet interface load and system configuration especialy with large number of EVC and OAM services.
SWCE-3232 is offered with a Pay-as-you-grow approach to enable progressive rate and feature upscales. It comes with a base budget similar to a Gigabit product but it brings strong benefits:
4x optical SFP ports support 2.5 Gigabit and Gigabit rates on a 10GE Carrier Ethernet platform for unequaled performances,
10 Gigabit ports and MEF CE2.0 (EVC, OAM) functions can be activated by a software license when your network reaches that requirement.
With that cost effective approach, you get a very high performance equipment that suits both current and future requirements and that provides easy flexibility and scalability to best secure CAPEX investments.
MEF CE2.0 Carrier Ethernet functions give Operator class services and many advantages compared with other technologies:
EDD Ethernet Demarcation Device with multiple NNI GE / 10GE SFP ports and 8x UNI Gigabit interfaces,
Managed services for point to point and multipoint interconnections with E-LINE, E-LAN and E-TREE topologies,
Availability, throughput, latency, QOS guaranties - SLA,
Native Ethernet standards for security - authentication, ACL,
High performance and cost effective technology with easy access to technical skills and resources,
Native standards for traffic management and Operation And Maintenance functions - OAM.
SWCE-3232 is a high reliability industry grade design. It comes with a choice of 110-230 Vac mains power input, or with one or two load-charing 24-48 Vdc power converters for best power failure resiliency.
Interfaces 
4x 10 Gigabit Ethernet SFP+ slots
4x  2.5GE / GE / 100FX multi-rate SFP slots
24x Gigabit Ethernet RJ45 ports
1x Gigabit Ethernet port for management purposes
1x RS232 console port
1x alarm relay
Protocols
MEF CE2.0 services: E-LINE / E-LAN / E-TREE, 4K EVC, OAM 802.3ah, Y.1731
IP v4 and IP v6 routing, Static, RIP, OSPF
STP, RSTP, MSTP, ERPS G.8032, G.8031
802.1Q VLAN, MVR, GVRP
Link aggregation, LACP
QoS, Flow Control, Priority Queuing, 8 priority queues per interface, rate limiting
IGMP snooping, filtering
Packet filtering at 2/3/4 layers, 802.1X, Radius
LLDP
802.1X, Guest VLAN, Radius, TACACS, ACL
Management: telnet, ssh, http, https, snmp v1/v2/v3, web / CLI, syslog, RMON
Environment
Size: 442 x 185 x 44 mm 
Operating temperature : -10 to +60 °C
Power supply: 1x 110-230 Vac mains input, or 1 or 2x 24-48 Vdc inputs
SWCE-3232-R-A     10 Gigabit Carrier Ethernet switch, 24x GE ports, 4x 2.5GE/GE/FX SFP slots, 4x 10GE SFP+ slots, 110-230 Vac power input
SWCE-3232-R-D     10 Gigabit Carrier Ethernet switch, 24x GE ports, 4x 2.5GE/GE/FX SFP slots, 4x 10GE SFP+ slots, 24-48 Vdc power input
SWCE-3232-R-2D   10 Gigabit Carrier Ethernet switch, 24x GE ports, 4x 2.5GE/GE/FX SFP slots, 4x 10GE SFP+ slots, 2x 24-48 Vdc power input
SWCE-LCE                   MEF Carrier Ethernet CE2.0 activation license for EVC and OAM services