RTDI-310 Ruggedized 4G/LTE router
RTDI-310 delivers all interfaces required in remote stations through a secured 4G/LTE network connection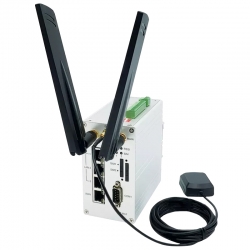 RTDI-310 is a rugedized 4G/LTE router aimed at providing all required communication interfaces in remote Utility or Transportation substations.
RTDI-310 embeds two SIM cards to improve retwork resiliency for mission critical applications. It delivers 4x Ethernet interfaces, 2x RS232/RS485 ports, 2x digital inputs, 1x relay output and a GPS receiver input for geolocation requirements.
RTDI-310 is compatible with all network standards from 2G to LTE. It embeds a dual stack IP v4 and v6 software with secured protocols such as Open-VPN and IPSec.
RTDI-310 provides high speed communication over the mobile network, up to 150 Mbps down-stream throughput.
RTDI-310 enables high scale connection of remote substations through the 4G/LTE mobile network:
Smart Grid
Electricity distribution substations
Public transportation signaling
Oil and gas pipelines
Water distribution and waste networks
2x SIM card slots 
GSM: 850/900/1800/1900 MHz
WCDMA: B1/B5/B8
LTE FDD: B1/B3/B5/B7/B8/B20
1x GPS input
4x Ethernet ports - 1x WAN and 1x or 3x LAN
1x RS232 port 
1x RS485 port 
2x digital inputs
1x relay output
Dual stack IP v4 v6
OpenVPN, IPSec, PPPoE, NAT, RIP 1/2, SNTP, DNS, IGMP, DHCP, Firewall
Power supply: 12-24 Vdc, 7 W max
Dimensions: 110 x 60 x 100 mm
DIN rail mounting clip
RTDI-314     4G/LTE router with 4x Ethernet ports, 2x serial ports, 2x DI and 1xDO, 2x SIM slots
RTDI-315     4G/LTE router with 4x Ethernet ports, 2x serial ports, 2x DI and 1xDO, 2x SIM slots, 1x GPS input
RTDI-317     4G/LTE router, 4x Ethernet ports, WIFI, 1RS232, 1 RS485, 2xDI and 1xDO, 2x SIM slots, 1x GPS input