RTD-714 Wanrover SD-WAN aggregation router
RTD-714 Wanrover delivers high speed and high quality Internet communication through the aggregation of several connections from various technologies (4G/5G, ADSL, etc.) and from various service providers. It solves many communication and security issues of gray areas or multi-site enterprises or stores.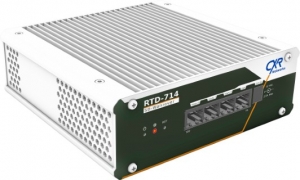 RTD-714 is a perfect solution for enterprises having a bad quality Internet access in grey areas.
RTD-714 performs a high performance link aggregation of various types of Internet links including ADSL, 4G/5G, satellite, etc. and from different service providers.
RTD-714 and its Wanrover cloud SDWAN services is based on an exclusive aggregation technology that provides the users with a perfect quality of experience for their applications.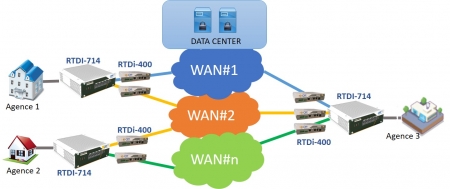 RTD-714 has already satisfied many customers in various cases:
multi site points of sales : aggregation of a poor ADSL connection and a 4G access to support the backoffice, Internet and customer entertainment communications
home office : improves the quality of Internet communications in grey areas including video-conferencing requirements
multimedia : improves the bandwidth and the stability of communications for multimedia streaming
RTD-714 differentiates from other available solutions from its unequaled aggregation and QoS performances. This technology brings also an improved security to applications and data that are splitted over the various links end to end.
SD-WAN router
1x LAN Ethernet port
3x WAN Ethernet  ports
1x USB port
Max power consumption : 20 W
Size : 130x 80 x 44 mm
RTD-714                        SD-WAN router SD-WAN, 1x LAN Ethernet port and 3x WAN Internet ports
WANROVER-2TO     Yearly SD-WAN service fees