CIP-408
CIP-408 is a dial-up and four modems converter to IP aimed at replacing the legacy communications over the plain old telephone system by an IP packet network to maintain the operation of remote equipment.

CIP-408 is available in 1U high, standard 19-inch rack mount version and Din rail mount.
The dial-up telephone system is being discontinued by telecoms operators in many countries. In this context, CIP-408 emulates the public switched telephone network and the end-to-end modem communication to enable:
Maintaining remote systems without any modification,

Moving SCADA / control systems to new generation data centers and IP communications,

Securing communication over the IP network through encryption protocols.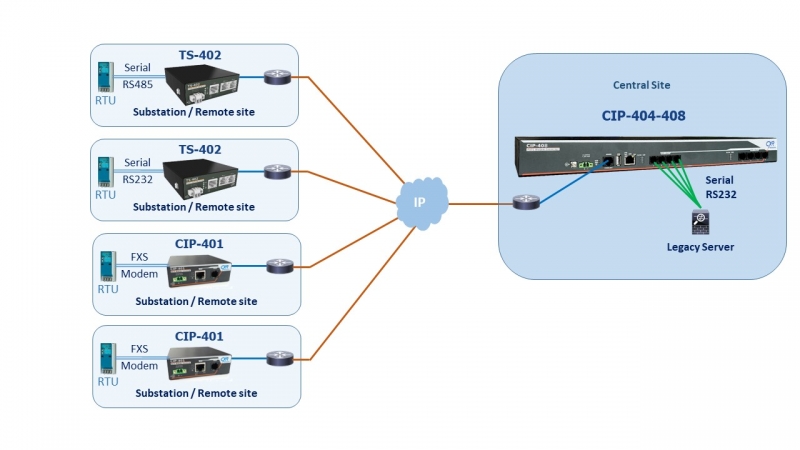 There have been so many systems based on modem and PSTN communications: alarm systems, electricity / water and other utility metering, electric substations, large heating systems, automatic distribution (food, drink, ATM, fuel, etc.), billing terminals, medical and pharmaceutical terminals, etc.
CIP-408 embeds:
8 FXS, dial-up network interface that emulates the PSTN network with incoming and outgoing calls,
A multimode modem processor that complies to the ITU-T V21 to V34 standards,
A packet processor that provides AES encryption and IPSec tunnels features.
CIP-408 is made by 2 CIP-404 who distribute up to 8 analogue modems across 1 Ethernet.
It benefits from a feature rich software with IP v4/v6 stack and many features to ensure best cybersecurity protection to communications and resources.
1- Eight Modems POTS interface
- POTS interface: FXS, 600 Ohms, CTR-21
- Incoming and outgoing call control
- DTMF and pulse dialing
- Asynchronous modem compliant to ITU-T standards : V21, V23, V22, V22Bis, V32, V32Bis, V34
2- Ethernet port: 10/100BaseT, RJ45
3- Communications over IP
- Encapsulation of asynchronous data over IP : transparent, bloc, message, HNZ, break
- Encapsulation over UDP or TCP, configurable TLV header
- Authentication and data encryption : AES, OpenVPN, IPSec
4- Other characteristics
- Dimensions: 200x91x44 mm
- Power supply input: 12-24 Vdc
- Typical power consumption: 10 W
CIP-401          Convertisseur modem RTC vers IP
CIP-404          Concentrateur convertisseur de 4 modems RTC vers IP
CIP-408          Concentrateur convertisseur de 8 modems RTC vers IP