AMS16 & AMS4
AMS4 and AMS16 chassis enable communication card concentration for all kind of telecoms media in a 19'' rack with various options of density, power supply redundancy and network management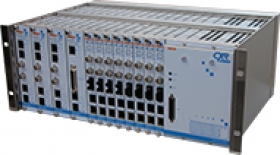 AMS4 is a 19''/1U chassis to host 4x modem cards with one sfixed power supply converter

AMS16 is a 19''/4U chassis to host up to 16x modem cards, one SNMP management card, and one or two power converters with redundancy, load sharing and mixed 110/230 Vac and 48 Vdc inputs.
Communication cards can be inserted and extracted during operation but no service interruption on other cards.
CFIP-L management card takes a separate slot in the chassis. It performs modem card inventory, configuration and monitoring. It forwards event and alarm notifications from modem cards and power supply modules to the network management system. This SNMP management card is particularly interesting for modem cards that do not provide any Ethernet / IP connection (dial up modems, ISDN adapters, simple E1/T1 converters). A graphical MIB file is provided for the SNMP manager.
AMS4 and AMS16 chassis can host the following communication cards:
2885P : modem FAX for dial up and leased line, V21-V34
6434 : ISDN adapter with V21-V34 and Fax modem
CV-xxxx : E1/T1 interface converter / CSU with serial and ISDN ports
CV200-TTX-R : E1/T1 interface converter / CSU with Ethernet port
SpeederLan-Bis : multi pairs Ethernet First Mile SHDSL-Bis access
FO-xxxx : fiber optic modem with E1/T1, E3/T3, ISDN, serial, and Ethernet interfaces
AMS4
4 slots for modem cards
110/230 Vac or 48 Vdc power input
Size: 19''/1U - 440 x 315 x 44 mm
AMS16
16 slots for communication cards
2 slots for power supply modules
1 slot for the CFIP-L SNMP management card
PS16-U / PS16 : 110 / 230 Vac - 100 W power module
PS3E : 48 Vdc / 100 W power module
CFIP-L : SNMP management card
Size: 19''/4U - 482 x 343 x 178 mm
| | |
| --- | --- |
|  Part Number  |   Description  |
| AMS4-2 |  19''/1U chassis, 4 slots, 110-230 Vac |
| AMS4-2-48 |  19''/1U chassis, 4 slots, 48 Vdc |
| AMS16-PS16 (-U) |  19''/4U chassis, 16 slots, 1x 230 Vac (110 Vac) module |
| AMS16-PS3E |  19''/4U chassis, 16 slots, 1x 48 Vdc module |
| PS16 (-U) |  230 Vac (110 Vac) 100 W power module for AMS16 |
| PS3E |  48 Vdc 100 W power module for AMS16 |
| AMS16-2DC-200W |  19''/4U chassis, 16 slots, 2x 48 Vdc 200 W modules |
| CFIP-L-SNMP |  SNMP managment card |