LEA-422 optical reflectometer OTDR
LEA-422 is an cost-effective and compact optical OTDR that is aimed at supporting field operations of industry networks and GPON/FTTH/FTTO telecoms operators.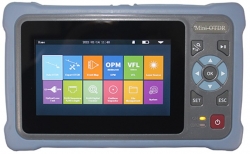 LEA-422 provide fast and high accuracy measurements of single-mode fiber issues over dozens of km.
It defines the exact location and nature of fiber events such as connectors, splices, stress, etc. to enable efficient diagnostics and maintenance operations.
It embeds smart software algorithms that perform event analysis to determine the nature of the events.
LEA-422 is a very versatile, compact, cost-effective product that provide fast and easy operation:
OTDR : fiber default location, measurement, analysis
High-accuracy optical power meter : -70 to +10 dBm input range
Optical source : 1310 and 1550 nm wave length
650nm red light VFL emitter for visual fault diagnostics 
Ethernet cable tester : continuity, impairement and length measurement, cable detection from a modulation signal detection
LEA-422 OTDR is a key test and measurement equipment when complex defaults appear on the fiber link or when accurate fiber qualification is required.
It provides a graphical interface with detailed results for measurements over dozens of km that suits most industry networks and GPON/FFTH/FTTO service providers.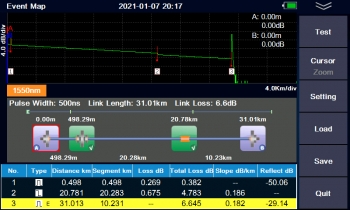 Event analysis provides clear diagnostics on splices, connectors or fiber defaults to make more efficient and faster maintenance operations
Single-mode fiber
Wave length : 1310 and 1550 nm
Range : 24 and 26 dB at 1310 and 1550 nm
Distance range : 0.5 to 100 km
Pulse width : 3ns to 20µs
Sampling : 128 000 points
Optical power meter : 850 to 1650 nm

input range : -70 to +10 dBm
Modulatiohn detection 

Optical source : 1310 and 1550 nm, -5 dBm, continuous signal or modulation
650nm red light FVL source, 10mw, continuous signal continu or flashing 1/2 Hz
Ethernet cable tester : length, continuity, impairement, detection of a mudulated signal for cable identification 
Operation : 12 hours
Weight : 0.5 kg
Dimensions : 173 x 109 x 45 mm
LEA-422                Optical reflectometer OTDR, range 24/26 dB
LEA-BA1000SM   Launch fiber cable, G.652D, 1,000 m