DSM5616
The DSM5616 is an industry-leading IP-DSLAM, MSAN or remote multi dwelling unit (MDU) launched, which supports flexible configurations and provides broadband services on Fiber To The Building (FTTB) and Fiber To The Curb (FTTC) networks.
The DSM5616 is a box-type device measuring 2-U high and 19-inch wide and providing two GPON or GE uplink ports and ADSL2+, VDSL2, SHDSL, POTS, ISDN, FE and GE ports. The DSM5616 features a high access density, high processing capability, high reliability, easy maintenance, environment-friendlily and energy conservation, and future-oriented architecture design and can be used in corridors, cabinets, indoor, and outdoor usage scenarios.

The DSM5616 provides two GPON or GE uplink ports and provides multiple services by supporting flexible board configurations. The DSM5616 provides broadband, voice, and video services through ADSL2+/ VDSL2/FE boards, voices service through POTS boards, leased line services through SHDSL or P2P boards.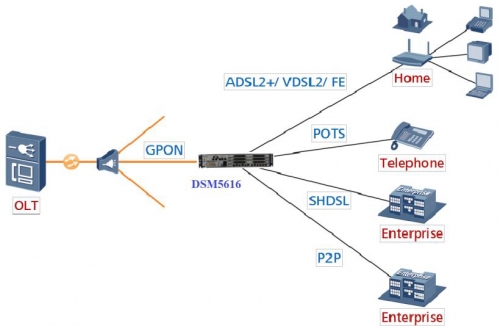 High access density: DSM5616 supports a maximum of 256 POTS users, 128 ADSL2+ users, 192 VDSL2 users, or 64FE users. It  supports 128 POTS users and 128 ADSL2+ users simultaneously by using a combo board.
Flexible configurations: Service boards are slot compatible and different types of ports can be configured flexibly, improving the actual configuration ratio and meeting different customer requirements.
Support for the combo board to improve the access density, reduce the space of the equipment room, and simplify cable routing complexity.
Support for the P2P optical access board (4GE+4FE) to provide high bandwidth for valued customers.
Support for 48-V backup power (lead-acid batteries and LiFePO4 batteries).
Operable IPTV services: Strong service switching capability, packet forwarding capability, and high integration (data exchange and user management) enable the DSM5616 to have carrier-class multicast operation capability.
Perfect voice features, supporting basic services (voice service, fax service, and modem service) and supplementary services (three-way calling, call waiting, call transfer, calling line identification presentation, and calling number restriction).
Plug-and-play (PnP) service provisioning: The DSM5616 allows remote issuing of configuration. A management channel and service channel are created after the DSM5616 is powered on and registers successfully. Manual onsite configuration is not required.
Efficient management and maintenance: free of field software commissioning, remote acceptance, remote upgrade and patch installation, and remote fault location.
High reliability: The DSM5616 supports the working temperature from -40 to 65 C, 6 kV lightning protection, and corrosion-proof design of boards.
Prudent security measures: The DSM5616 meets security requirements of telecom services to ensure system and user security.
Environment-friendly and energy conservation: The DSM5616 uses a highly effective power supply system to reduce system power consumption. It uses an intelligent fan system that adjusts the rotating speed to reduce power consumption when the system is idle. It uses high-performance chipset to reduce chipset power consumption. It uses POTS short-loop design to reduce port power consumption in short distances.
Future-oriented architecture design: The DSM5616 provides corresponding service boards to quickly meet operators' network and service requirements in the future without any modification
Network ports
1x GPON + 1xGE    or   2x GE
User ports
4x slots and choice of service boards:
• 32-channels VDSL2 board (profiles: 8a/c/d, 12a/b, 17a), with splitters
• 16-channels SHDSL board, EFM and ATM modes
• 32-channel ADSL2+ board, with splitters

Other service cards : please contact CXR
Environment
Size: 88.1mm×442mm×245mm, 2U
 
Operating temperature: -40 to +65 °C

Power supply AC: 110 - 230 Vac          DC : -48 Vdc
| | |
| --- | --- |
| Reference | Description |
| DSM5616-AC | DSM5616 chassis with controller, Fan Tray and 110-230 Vac PSU |
| DSM5616-DC | DSM5616 chassis with controller, Fan Tray and 1x 48 Vdc PSU |
| DSM5616-ACDC | DSM5616 chassis with controller, Fan Tray and 110-230 Vac & 48Vdc PSU |
|   | Subscriber cards |
| DSM5616-32VDSL2 | 32 channels VDSL2 card, 17a/12b/8d/8c/8a  profiles, integrated splitters |
| DSM5616-32ADSL2 | 32 channels ADSL2+ card, integrated splitters |
| DSM5616-16VDSL2-30A | 16 channels VDSL2 card, 30a/17a/12b/8d/8c/8a profiles, integrated splitters |
| DSM5616-16SHDSL | 16-channel G.SHDSL board (supporting ATM and PTM) |
| DSM5616-CA32DSL | Cable for 32x VDSL/ADSL lines |
| DSM5616-CA16SHDSL | Cable for 16x SHDSL lines |