Video protection network
Videoprotection is a key element for the security of cities, transportation infrastructures and industries.
A video-protection network is made of 3 main parts that are the site of video-surveillance and datacenter, IP cameras and access network to the IP cameras.

CXR offers perfect solutions that respond to the key issues of the video-protection networks:
1- Layer 2/3 Ethernet switches for the aggregation of the communication links to IP cameras
    SWM-3640 delivers optical SFP or RJ45 interfaces and it supports routing and resiliency protocols, QoS, multicast and security features.
2- Ruggedized Gigabit Ethernet switches that feed IP cameras with 60W POE from a 12 or 24 Vdc battery source
    SWDL-H-2GPS is a non-manageable switch with 2x optical SFP interfaces and 2x 60W POE ports and a 12~48 Vdc power input
    SWMDL-H-4GPS is a manageable switch with 2x optical SFP interfaces and 4x 60W POE ports, with IGMP and ring resiliency protocols. It has a 24~48 Vdc power input.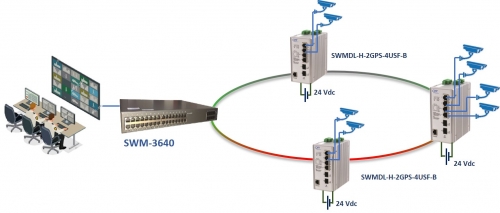 3- 5GHz Ethernet radio bridges that connect IP cameras that are a few km away from the main optical Ethernet network.
   WBB5890 delivers 900Mbps of Ethernet bandwidth over few kilometers. It is a perfect product for Smart-Cities with its nice design.

These solutions bring many benefits:
60 POE interfaces for any type of IP camera
Ruggedized switch with POE Power-Booster to deliver a stable POE voltage from a 12 or 24 Vdc source with easy battery backup
Layer 2/3 aggregation switch with a reach set of traffic control and security features
Non-manageable and cost-effective switch with 2x optical SFP's for drop-and-insert topologies
Manageable switch with IGMP and resiliency protocols 
5GHz Ethernet bridge with integrated antenna, nice design, cost effective and easy installation