TDM Pseudowire Circuit Emulsaiton Services
CXR range of TDM over IP gateways provides subscriber remote units and Pseudowire aggregation solutions for TDM E1/T1 G703/G704 services, unstructured synchronous serial traffic over an X21/V35/RS530 interface, or even for E&M lesed line emulation or voice FXO/FXS services without voice compression.
This equipment helps telecom service providers to provide enterprises with end to end TDM circuit emulation services over their IP or MPLS packet network and with synchronisation clock recovery.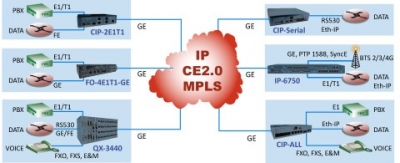 All products provide multiple Ethernet interfaces and have support for CES and SAT over Packet protocols.
CIP-2E1T1 : TDM over IP gateway for 2x E1/T1 G703 G704 interfaces 
FO-4E1T1-GE : TDM over IP gateway for 4x E1 G703 G704 interfaces
CIP-Serial : TDM over IP gateway for 1x synchronous X21/RS530/V35 serial interface
CIP-ALL : TDM over IP gateway for 1x E1 and 4x E&M or FXO/FXS voice interfaces
PT-6750 : TDM over IP gateway for 16x E1 interfaces
QX-3440 : modular access multipelxer for multiple TDM over IP cards and X21/RS530, E&M, E1 G703-G704 interfaces