QX3440-A
The QX3440-A is a multiplexer with a 64 E1/T1 or 128 Mbps backplane for incoming and outgoing traffic. The high density concept gives it the capability to deliver a large number of voice and data circuits.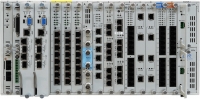 The QX3440-A is an E1/T1 DACS for the Telco infrastructure as well for the transport/utilities/energy networks which require a high number of analogue and data interfaces per node.
The QX3440-A is a non-blocking DACS for 64 E1/T1 interfaces or 1984 TS and will cross connect any voice or data interface.
The system is designed with an automatic CAS fabric for voice on all slots. The QX3440-A supports analogue voice (FXO to FXS, FXS to FXS in PLAR mode and E&M to E&M) and digital to analogue voice ( E1-CAS to FXS or E&M and E1-CAS to x E1-CAS). It can also be deployed as a channel bank with up to 120 or 144 voice channels from one or two 4 E1 / 4T1 copper or fiber optic modules.
The QX3440-A is used as an edge multiplexer or as an Add and Drop multiplexer in a ring, bus or nodal network with protection.
CPU, cross-connect matrix, power supply and E1/T1 modules can be redundant if required.
Link protection is provided for different applications for small and large networks:
- MSP1+1 protection for each E1
- PDHUPSR ring Protection per E1 with a maximum 32 E1 rings.
- PDHSNCP Protection of TS, or 64Kbps protection for any voice/data/Ethernet flow
This DACS is available in 2 models using the same cards : the QX3440 5U and QX3440-S 2.5U.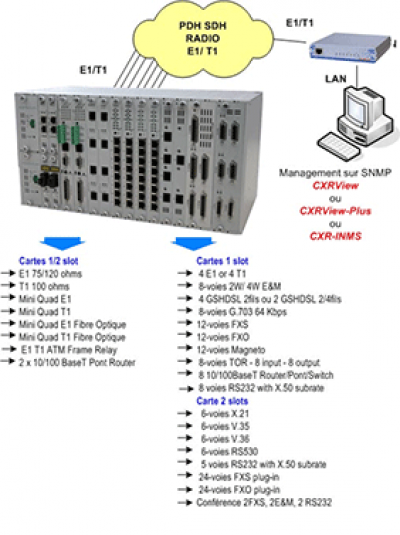 The QX3440-A is managed through the local console port or Ethernet port or a TS over an incoming E1/T1 port. Management is done in Telnet or in SNMP.
The QX3440-TDMoE card give to the DACS the access to the Ethernet or IP networks of transport. This card with a TDM throughput of 4E1 provide over the 2 GE up to 128 pseudo-wire to other hybrid devices like QX3440 w QX3440-TDMoE or toCIP-2E1 converter to 2 E1. The TDM traffic w or w/o CAS signalization is carried in TDMoIP, TDMoE, CESoPSN or SAToPSN encapsulation protocols.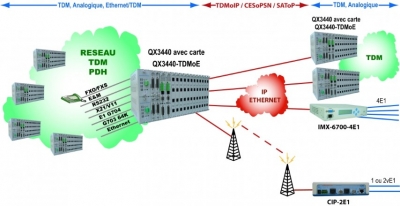 CXR provides two optional GUI and NMS systems, iNET and iNMS.
CXR-iNET is a windows NMS system based on client server topology.
iNET provide a cross-connect graphique configuration on each nodes.
CXR-INMS is an intelligent system for large networks running with Linux server and Oracle databases.
GUI are windows based. iNMS provide end-to-end configuration.
Main specifications of this multi-service DACS are:
Full non blocking DACS of 128 Mbps, maximum 64 E1/T1 or 28 E1/T1 for –S model
Full modular: 2 slots CPU, 2 slots power, 4 mini-slots, 12 slots for DTE, WAN and Ethernet
Mini Card : E1 or 4 E1 G703/G704 or CAS, T1 or 4T1: G703, E1 ATM / Frame Relay, bridge router 2x10/100BT w 64 WAN,
1 slot card : 4 E1, 3 E1-SNCP, 8 G703 64K (J64), 12 FXS, 12 FXO or12 magnetos, 8 E&M 2/4 wire, 8 Router/Bridge/switch, 8 port relays, 4 modems G.
SHDSL compatible with MD42xx, CopperLAN, 8 RS232 sync/async
2 slot card: 6 V35, 6 X21/V11, 5 RS232 sync/asynch with X50 multiplex over 1 TS
Redundancy options: CPU, cross-connect matrix, power, E1/T1,
Administration over V24, Ethernet or TS.