XP701
XP-701 and XP-101 provide Ethernet extension over coax or twisted pair cables with transport of POE over distances up to 800 or 1,000 meters.

Ethernet with POE extension over several hundreds meters enable easy and quick deployment of POE powered devices and avoid managing the power supply at the remote site.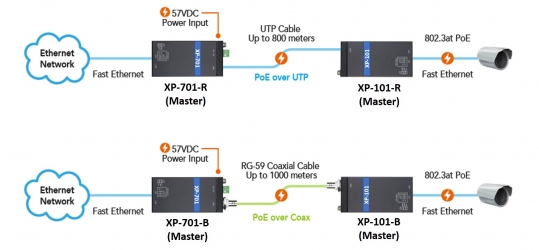 This is a perfect solution in many application cases to connect
IP cameras
VoIP phones
information display
RTU, alarm, monitoring systems, etc.
XP-701 and XP101 comply with EN-50121-4 for integration in a railway transport environment
- Ethernet interface : 10/100BT, RJ45
- Line interface : BNC coax or RJ45 for 2 or 4 CAT6 twisted pairs
- XP-701 : 55-57 Vdc power input
- XP-101 : remote power from Master XP-701
- DIP-switch settings : Ethernet speed, POE control, Link-Pass-Through alarm
- Dimensions : 47x94x26.5 mm
XP701 and XP101 extend the Ethernet link over several hundred meters with various POE budget :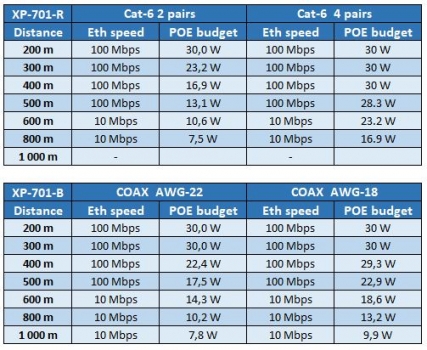 XP-701-R          Master POE Ethernet extender, interface for 2 or 4 CAT6 twisted pairs, 55-57 Vdc power input
XP-101-R          Remote POE Ethernet extender, interface for 2 or 4 CAT6 twisted pairs, remote power from Master XP-701-R
XP-701-B          Master POE Ethernet extender, BNC Coax interface, 55-57 Vdc power input
XP-101-B          Remote POE Ethernet extender, BNC Coax interface, remote power from Master XP-701-B