VOIP-4141E
The VOIP-4141E Industrial VoIP Gateway Series is ideal for military VoIP deployments.
It supports up to eight telephones integrating PSTN, PBX, and standard phones for voice and fax over any IP network. The corporate, small, or remote office can use voice-over-packet services to eliminate toll charges, access local PSTN calling, and secure voice traffic. Now industrial to handle the extreme environmental conditions your application calls for.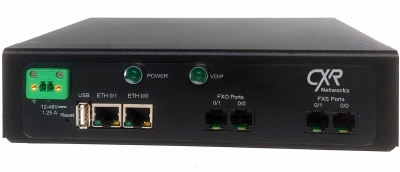 The industrial VOIP-4141E VoIP Gateway series is ideal for delivering Voice-over-IP telephony for outdoor phone, industrial VoIP, military voice-over-IP, and tactical communications systems in outdoor or environmentally exposed environments where heating and cooling cannot be controlled. The unit can be vehicle-mounted and is suitable for military VoIP gateway applications. Offering flexible combinations of up to eight analog (POTS) FXS and FXO interfaces, CXR's industrial VoIP gateway facilitates IP-based voice delivery for such applications as industrial automation, military communications, railways, public transportation, public and private outdoor phones—including emergency phones in parking lots, along roadways and railways and within underground tunnels.
The VOIP-4141E gateway provides interconnection and conversion between modern IP-based Voice networks using Session Initiation Protocol (SIP) and traditional analog phones, analog PBX equipment or PSTN lines. All-IP means voice terminals everywhere needto be adapted to VoIP.
Housed in a hardened metal enclosure, the VOIP-4141E device is designed to withstand shock (IEC 60068-2-27), vibration (IEC 60068-2-6), extreme temperatures (-40 to +70 °C), up to 85% humidity (conformal coating option protects up to 100%), condensation, and frost. DIN-rail mounting and shelf mounting are supported. 12-48 VDC terminal block power input is standard, while an AC-to-DC adapter, with a screw-down plug fastener, is available as an accessory.
Protection against power spike and surge is built in according to MIL STD 1275.

• Up to 8 FXS and/or FXO ports - Compact, reliable stand-alone VoIP gateway with a variety of port options. Supports simultaneous voice or fax calls on all ports.
• Advanced Local Call Switching - Virtual interfaces and routing tables provide industry leading flexibility in call handling programming. Local call switching, soft fallback to alternative routes. Simultaneously connects to multiple SIP services/IP PBXs.
• Complete SIP and T.38 support - Supports the complete range of industry standard VoIP: SIP, T.38 fax, fax and modem handling, DTMF relay. Codecs G.729, G.723, etc.
• Easy Management & Provisioning - Web-based management, SNMP, command line interface. Automated mass provisioning for efficient large-scale deployments.
• Outstanding Interoperability - Proven integration for voice and T.38 fax with 3CX, As-terisk, PingTel and other leading IP PBX systems and softswitch vendors.
• Industrial protection you need :
Operating Temperature: -40 to +70 °C
Humidity: 85% condensing. Conformal coating option available if 100% humid-ity is required.
Vibration: IEC 60068-2-6, 7.5 mm, 5–8 Hz, 2g, 11 ms
Shock: IEC 60068-2-27, 15 g, 11 ms
VOIP-4141E-2ETH2JS2JO4V-DC
Industrial VoIP Gateway, 2 FXS, 2 FXO, 4 VoIP Calls, eSBC upgradeable (SIP b2b UA max. 200 SIP calls), Optional SIP-TLS/SRTP; Transcoding (max. 4 calls), 2x Gig Ethernet, Power - Internal +12 to +48 VDC
VOIP-4141E-2ETH4JS4JO8V-DC
Industrial VoIP Gateway, 4 FXS, 4 FXO, 8 VoIP Calls, eSBC upgradeable (SIP b2b UA max. 200 SIP calls), Optional SIP-TLS/SRTP; Transcoding (max. 4 calls), 2x Gig Ethernet, Power - Internal +12 to +48 VDC
VOIP-4141E-2JS2JO4V-DC
Industrial VoIP Gateway, 2 FXS / 2FXO, 4 VoIP Calls, eSBC upgradeable (SIP b2b UA max. 200 SIP calls), Optional SIP-TLS/SRTP; Transcoding (max. 4 calls), 1x Gig Ethernet, Power - Internal +12 to +48 VDC
VOIP-4141E-2JS2V-DC
Industrial VoIP Gateway, 2 FXS, 2 VoIP Calls, eSBC upgradeable (SIP b2b UA max. 200 SIP calls), Optional SIP-TLS/SRTP; Transcoding (max. 4 calls), 1x Gig Ethernet, Power - Internal +12 to +48 VDC
VOIP-4141E-4JS4JO8V-DC
Industrial VoIP Gateway, 4 FXS / 4 FXO, 8 VoIP Calls, eSBC upgradeable (SIP b2b UA max. 200 SIP calls), Optional SIP-TLS/SRTP; Transcoding (max. 4 calls), 1x Gig Ethernet, Power - Internal +12 to +48 VDC
VOIP-4141E-4JS4V-DC
Industrial VoIP Gateway, 4 FXS, 4 VoIP Calls, eSBC upgradeable (SIP b2b UA max. 200 SIP calls), Optional SIP-TLS/SRTP; Transcoding (max. 4 calls), 1x Gig Ethernet, Power - Internal +12 to +48 VDC
VOIP-4141E-8JS8V-DC
Industrial VoIP Gateway, 8 FXS, 8 VoIP Calls, eSBC upgradeable (SIP b2b UA max. 200 SIP calls), Optional SIP-TLS/SRTP; Transcoding (max. 4 calls), 1x Gig Ethernet, Power - Internal +12 to +48 VDC
VOIP-4141E-8JS8V-EUI
Industrial VoIP Gateway, 8 FXS, 8 VoIP Calls, eSBC upgradeable (SIP b2b UA max. 200 SIP calls), Optional SIP-TLS/SRTP; Transcoding (max. 4 calls), 1x Gig Ethernet, external UI power (100–240 VAC)
VOIP-4141E-CC-4JS4JO8V-DC
Industrial VoIP Gateway, 4 FXS / 4 FXO, 8 VoIP Calls, eSBC upgradeable (SIP b2b UA max. 200 SIP calls), Optional SIP-TLS/SRTP; Transcoding (max. 4 calls), 1x Gig Ethernet, Power - Internal +12 to +48 VDC