VOIP-200
The VOIP-200 Series of Analog Telephone Adapters and Gateways support up to four telephone connections, integrating legacy Phones and Fax machines in to a UCC Environment.
High quality voice and reliable fax over any IP network. All-IP does not end when analog terminals have to be integrated. Security and quality guaranteed.
Connect with confidence using the VOIP-200 Series, legacy telephony equipment to nowadays common SIP trunk and hosted services. The VOIP-200 Series support a variety of telephony interfaces, from 1 to 4 simultaneous calls.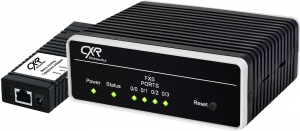 CXR VOIP-200 series provides the advanced features and capabilities, listed below:
• Up to 4 Analog Interfaces (FXS): 1, 2 or 4 analog ports.
• Advanced Calling Features: Call-waiting, hold, park, transfer, toggle, local and server-side conference, MWI, caller ID, …
• Full VoIP protocol support: SIPv2, SIPv2 over TLS, SIPv2 over IPv6, T.38, G.722 HD voice, RTP Security with SRTP, fax andmodem bypass, DTMF relay
• Easy Management and Provisionning: WebWizard, HTTPS, TR-069 zero-touch provisionning, SNMP and CLI.
• Small Form Factor: Smallest ATA on the market
• Outstanding Interoperability: Interoperable for voice and T.38 fax with leading SIP service providers, softswitch vendors,and major IP-PBX manufacturers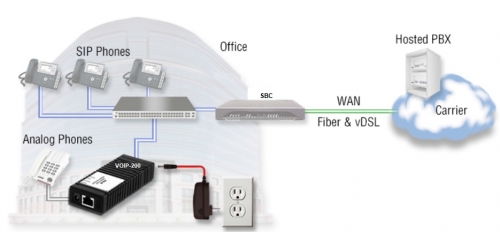 Whether used as an ATA, connecting legacy telephones to an IP-PBX or as a VoIP Gateway integrating legacy fax machines into a hosted UC environment, the VOIP-200 adapts to every use-case.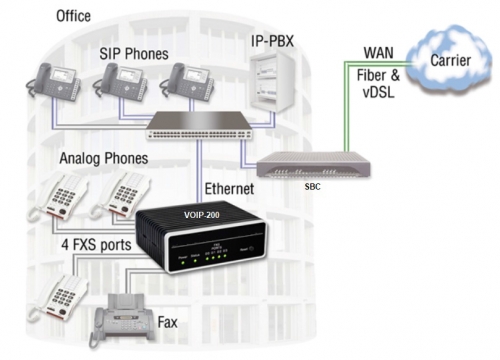 Call Capacity
Up to 4 simultaneous G.722 or G.711 or T.38 fax calls
Voice Signaling
• SIPv2 & SIPv2 over TCP
• SIPv2 TLS**
• SIPv2 over IPv6
• SIP call transfer, redirect • Overlap or en-bloc dialing
• DTMF in-band, out-of-band
• Configurable tones Call Routing & Services
• Regular expression number matching
• Regular expression number manipulation
• Least Cost Routing • Number blocking
• Short-Dialing • Digit collection
• Distribution-Groups and Hunt-Groups
FXS Connectivity
• FXS ports, RJ-11/12
• 2-wire Loopstart
• EuroPOTS (ETSI EG201188)
• Programmable AC impedance, feeding, ring and on‐ hook voltage
• Caller-ID FSK and ITU V.23 /Bell 202 generation
• 5 REN load on FXS port
Voice Processing
• G.722, G.711m/A-law
• G.723(6.4kbps), 729ab (8 kbps)
• G.726 (16 ,24, 32, 40 Kbps) • G.168-2004 echo cancellation (128 ms)
• Up to 4 simultaneous low bandwidth, high definition voice or T.38 fax calls
• Silence suppression and comfort noise
• Adaptive and configurable dejitter buffer
• Configurable RTP packet length
Quality of Service
IEEE 802.1p, IEEE 802.1Q, 4096 VLANs (tag insertion/deletion), TOS, DiffServ labeling
Connectivity
• One 10/100 Base-T Ethernet port
• Auto-MDIX
• DHCP Client (IPv4 & IPv6)
• PPPoE Client (multi-session)
• IP Multi-Netting, VLAN, Secondary IP
• IPv4 & IPv6 Dual Stack
• ICMP
• Dynamic and static NAT and NAPT
• Access Control List (ACL)
• DNS, DynDNS
• DHCP Server
• SNTP Client
Management
• Patton Cloud managed
• Web/HTTPS, CLI with Telnet and SSH access
• Web Wizard
• Fully Documented CLI
• Telnet and HTTPs access
• TR-069, TFTP, HTTP, HTTPS configuration/firmware up-and download
• SNMPv3 agent
• Separate config domain (LAN side config and WAN side config)
• MIB II and private MIB
• Built-in diagnostic tools
• Secure Auto-Provisioning with built in root CA
Power consumption
• 1 port:3 watts
• 2 ports:4 watts
• 4 ports:6 watts
Power
110–230 VAC (50/60 Hz)
Dimensions
• 1 port:3.8 L x 1.65 W x 0.75 H in. (9.7 L x 4.2 W x 1.9 H cm.)
• 2 & 4 ports: 0.71 H x 1.1 W x 2.56 D in. (18 H x 28 W x 65 D mm)
Weight
• 1 port:2.4 oz (68 g)
• 2 & 4 ports: 3.2 oz (90 g)
Environment
2–104°F (0–40°C)
Compliance
EMC compliance: EN55032 and EN55024
• Safety compliance: EN62638-1
• CE compliance
•FCC Part 15 Class B
VOIP-200-1JS1V-EUI
Micro Analog Telephone or Fax to SIP Adapter; 1x FXS RJ11; 1x 10/100BaseTX, Optional SIP-TLS, SRTP, incl. external UI power (100–240 VAC)
VOIP-200-1JS1V-SKD
Micro Analog Telephone/Fax to VoIP Adapter Semi Knock Down (SA level, No Enclosure); 1x FXS RJ11; 1x 10/100BaseTX, Optional SIP-TLS, SRTP, incl. No Power Adapter Included
VOIP-200-2JS2V-EUI
FXS-SIP VoIP Gateway, 2x FXS RJ11; 1x 10/100BaseTX, Optional SIP-TLS, SRTP, incl. external UI power (100–240 VAC)
VOIP-200-4JS4V-EUI
FXS-SIP VoIP Gateway, 4x FXS RJ11; 1x 10/100BaseTX, Optional SIP-TLS, SRTP, incl. external UI power (100–240 VAC)