SWMM-H-9628
SWMM-H-9528 and 9626 are modular and ruggedized 10 gigabit Ethernet switches that are designed for the electricity distribution and transport networks. They provide many services - IP routing, PTP and SyncE synchronization, HSP/PRP resiliency, VRRP redundancy. They deliver 4x GE / 10GE uplink ports and 3x slots for any daughter card among 8x RJ45, 8x SFP, 4x HSR/PRP all supporting PTP BC/TC synchronization

SWMM-H-9528 are ruggedized Ethernet switches that fit any industrial network requirement thanks to their modular design and extensive features.
IEC-61850 certified and supporting PTP SyncE synchronization and HSR-PRP resiliency, they bring great values to electricity distribution and transport networks.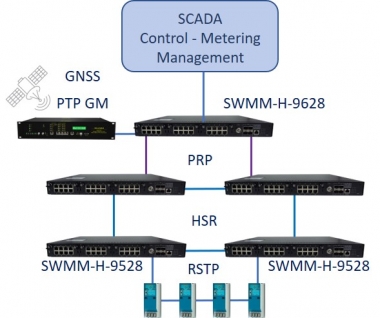 SWMM-H-9528 are very versatile thanks to their 3x modular slots for Ethernet cards, their 4x GE / 10GE uplink ports and their extensive layer 2 and layer 3 features including OSPF routing and VRRP redundancy:
12 to 28 Ethernet ports with a mix of RJ45 and SFP options
3x slots for add-on cards : 8x SFP GE, 8x RJ45 GE, 4x SFP or RJ45 HSR-PRP
4x SFP uplink ports : dual-rate Gigabit and 10 Gigabit
2x power converters with either 24-48 Vdc or 110-230 Vac inputs
Compact 1U/19'' format
Many protocols for security, traffic control, QoS, IP routing and VRRP redundancy
SWMM-H-9528 embeds hardware based PTP & SyncE synchronization services. A high accuracy OCXO oscillator enables nano-second accuracy and long-term hold-over stability in case the connection to the PTP Grand-Master is lost. Transparent Clock and Boundary Clock modes are both supported on all Ethernet ports with various PTP profile including IEC-61850-9-3 Power profile.
IEC-62439-3 HSR and PRP are zero-packet-loss protocols for mission critical application such as GOOSE messages in a IEC-61850 network. The HSR-PRP cards of the SWMM-H-9528 provide 4x RJ45 or SFP GE ports that operate in 2x HSR and/or PRP groups for better flexibility.
SWMM-H-9528 supports all layer 2 protocols for traffic management (VLAN, IGMP) and Quality of Services over 8 priority queues on each interface. Layer 2 resiliency is based on RSTP, MSTP and G.8032.
SWMM-H-9628 adds layer 3 routing protocols (RIP, OSPF) and VRRP rdedundancy.
The management interface is secured by authentication and encryption protocols. Secured SNMP v3 and Radius authentication are appreciated in large network management systems.
1- SWMM-H-9528 system
- 4x SFP+ uplink ports : dual-rate GE and 10GE
- 3x slots for modular Ethernet cards
- 2x redundant power converters with either 24-48 Vdc or 110-230 Vac inputs
- 1x RS232 local console port
- 1x 1PPS output with BNC connector
- 1x alarm relay output
2- Ethernet modular cards
- 8xRJ45 PTP : 8x 10/100/1000BT Ethernet ports with PTP IEEE-1588 support 
- 8xSFP PTP : 8x ports optical 100FX / 1000FX SFP sockets with PTP IEEE-1588 support 
- 4xRJ45 HSR-PRP : 4x 10/100/1000BT Ethernet ports with 2x HSR and/or PRP groups 
- 4xSFP HSR-PRP : 4x optical 100FX / 1000FX SFP sockets with 2x HSR and/or PRP groups
3- Protocols 
- RSTP, MSTP, G.8032 ERPS, MRP
- VLAN, QinQ, 
- LACP, IGMP v1/v2/v3, GMRP, GVRP, MODBUS TCP
- IEEE-1588 PTP v2, Sync-E G.8261, NTP, 
- LLDP, SNMP v3, SSH, DHCP, BootP, SMTP, HTTPS, RMON, RADIUS, SYSLOG, 
- ACL filter, 802.1X
- SWMM-H-9628 : RIP, OSPF v2, VRRP, IGMP v3, DVMRP, PIM-SM, PIM-DM, PIM-SSM
4- Other characteristics
- Dimensions : 440x355x44 mm
- Power supply : 2x 24-48 Vdc or 2x 110-230 Vac
- Typical power consumption : 47 W
- Operating temperature : -40 to +85 °C
SWMM-H-9628-SB-2A         10GE modular switch, L3 routing, PTP Sync-E, 2x 110-230 Vac power inputs
SWMM-H-9628-SB-2D         10GE modular switch, L3 routing, PTP Sync-E, 2x 24-48 Vdc power inputs
SWMM-H-9528-SB-2A         10GE modular switch, PTP Sync-E, 2x 110-230 Vac power inputs
SWMM-H-9528-SB-2D         10GE modular switch, PTP Sync-E, 2x 24-48 Vdc power inputs
SWMM-H-9528-2A               10GE modular switch, 2x 110-230 Vac power inputs
SWMM-H-9528-2D               10GE modular switch, 2x 24-48 Vdc power inputs
SWMM9528-8R-PTP              Add-on card with 8x RJ45 Ethernet ports with PTP Sync-E
SWMM9528-8S-PTP              Add-on card with 8x optical SFP ports with PTP Sync-E
SWMM9528-4R-HSRPRP     Add-on card with 4x RJ45 Ethernet ports with HSR-PRP
SWMM9528-4S-HSRPRP     Add-on card with 4x optical SFP ports with HSR-PRP