SWM-3800
SWM-3800 is a new range of stackable 10 Gigabit Ethernet switch providing 24 to 48 GE ports and 6x 10 GbE ports

SWM-3800 is a new generation of 10 Gigabit Ethernet switches that has a very high bandwidth switching and aggregation engine to 6x 10GE ports with layer 2/3/4 protocol rich software that provides higher performance and future proof investments. Network users and managers benefit best quality of experience from its performances, routing and traffic control protocols, but also security and management extensive features.
SWM-3800 are very valuable in mission critical networks and enterprises where they provide core, aggregation and distribution functions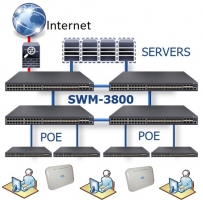 SWM-3800 is a core backbone switch thanks to its 10GE uplink ports and wirespeed routing capabilities. It provides high bandwidth traffic aggregation with filtering and routing functions. It connects to many users through a choice of various optical or POE interfaces with authentication and filtering features.

SWM-3800 is set as an aggregation and core backbone switch in many mission critical networks where it brings resiliency protocols at layer 2 and 3 - ERPS G.8032 and VRRP, but also control of multicast video traffic, cybersecurity features, and wirespeed routing. 
Applications
Telecoms service providers
Enterprise networks with VLAN routing and multiple network spegments 
Data Center, IoT and Big Data thanks to its high switching capacity
Industry, Transportation and Utility aggregation and backbone networks
Benefits
Extensive IP v4 and v6 protocols : OSPF, BGP, VRRP, G.8032
Complete connectivity : 6x 10 GE ports, stacking
Stacking with one single management IP address
Future proof performances and best value for price to secure your investments
Interfaces 
6x 10 Gigabit Ethernet SFP+  ports
24 or 48x Gigabit Ethernet ports, RJ45 or SFP
Energy Efficient Ethernet 802.3az
Protocols
STP, RSTP, MSTP, ERPS G.8032
802.1Q VLAN, GVRP
QoS, Flow Control, Priority Queuing over 8x priority queues, rate limiting
IGMP v1/v2/v3, Snooping, Fast Leave, PIM-DM, PIM-SM, MVR
IP v4 / v6
Packet filtering at layer 2/3/4, 802.1X, Radius
IP routing IP: static, RIP, OSPF, BGP, VRRP, 64 K routes
MPLS VPN LDP
Ethernet OAM 802.3ah, 802.1ag, Y.1731
802.1X, Radius, L2/L3/L4 ACL
DHCP snooping, DHCP option 82
Environment
Dimensions : 440 x 350 x 44 mm 
Operating temperature : 0 to +50 °C
Power supply : 2x slots for power supply cards with either 48 Vdc or 110-230 Vac input
SWM-3830-R-MA      10 GE L3 Switch, 24x GE RJ45 ports, 6x 10GE SFP+ slots, 1x 110-230 Vac power card
SWM-3838-S-MA     10 GE L3 switch, 24x GE SFP and 8x GE RJ45 ports, 6x 10GE SFP+ slots, 1x 110-230 Vac power card
SWM-3854-R-MA      10 GE L3 Switch, 48x GE RJ45 ports, 6x 10GE SFP+ slots, 1x 110-230 Vac power card
SWM-3854-RS-MA     10 GE L3 switch, 24x GE SFP and 24x GE RJ45 ports, 6x 10GE SFP+ slots, 1x 110-230 Vac power card
SWM3800-AC150     110-230 Vac power card, 150 W
SWM3800-DC150     48 Vdc power card, 150 w