VDDCOAX is qualified for railway stations to provide Ethernet POE connectivity to IP cameras with remote power supply
Video protection is a major security element of railway stations – train, tramway, underground. IP camera connection is a concern for Ethernet connectivity and power supply to remote devices – both camera and Ethernet switch or converter.
VDDCOAX provides easy Ethernet POE connection thanks to two key assets. First, VDSL requires a simple twisted copper pair cable to deliver 100 Mbps symmetrical bandwidth. But also the master VDSL modem feeds the energy to both the remote modem and its Ethernet POE devices – IP camera or so, with more than 30 W power budget.

VDDCOAX reduces installation efforts and CAPEX / OPEX expenses with less products to install and with optimized IP camera connection to the Ethernet / IP network.
Benefits of CXR solutions for remote power connection of Ethernet POE equipment: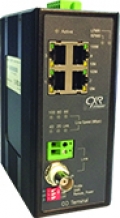 36 W power budget and 100 Mbps symmetrical bandwidth over 400 meter long, 0.6 mm cable
Easy remote modem setting, dip-switch
Qualified for railway environment
Single port or 8 ports master equipment
Ruggedized product with extended operating temperature range -40 to +75 °C
Please contact CXR for more information