SWM-8VDPW-2CB
SWM-8VDPW-2CB is designed to extend the reach of Ethernet Data and IEEE 802.3at/802.3af Power over Ethernet beyond its natural limitations of 100 meters for the network infrastructure. 

The solution SWM-8VDPW-2CB 8-Port Power over Copper Managed Switch with 500 Watts of power budget that can transmit data and power over a single pair of telephone grade UTP wire/coaxial cable up to 1,000 m. SWM-8VDPW-2CB can connect up to 8 units of VDD2 Power over Copper PoE Extender with 4 PoE(PSE) ports. Without the need for local power supply, each VDD2 is equipped with four 10/100Base-TX IEEE 802.3at PoE Ports for total power budget of 30W that can support any remote IEEE 802.3at/af powered device (PD) like Wi-Fi Access Point, IP phone, and IP Camera. It enables centralized management of power supply from a single location for easy, efficient and cost-effective installation. SWM-8VDPW-2CB/VDD2 Power over Copper System is an ideal Long Reach POE extension solution for service providers to deploy networking applications in public areas that requires Wireless AP, IP Phones and IP Cameras.
 CPE modem's compatible
VDCOAX-H-4TPOE-S : CPE modem VDSL2 PTM slave, 2 wires or BNC coax , Ethernet bridge 100/100Mbps , 300m, 4 POE ports (30W) 
VDD2-HT-4TPOE-S : CPE modem VDSL2 PTM slave, 2 wires or BNC coax , Ethernet bridge 100/100Mbps , 300m, 4 POE  ports POE 802.13at (total 30W), EN50121-4.
VDD2-I-TPOE-S : CPE modem VDSL2 PTM slave, 2 wires or BNC coax , Ethernet bridge 100/100Mbps , 300m, 1 POE port  (30W) 
Wifi and Camera application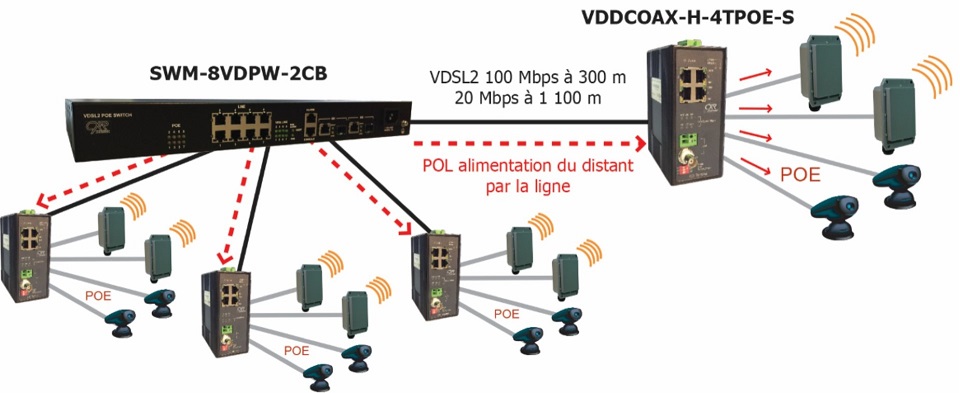 Interfaces :
2 Gigabit Ethernet Combo 10/100/1000BaseT RJ45 and SFP 1000SX/LX
8 RJ11 connection toward subscriber in VDSL
1 RJ45 port console
1 RJ45 port for 4 alarms
Standards :
Ethernet: IEEE802.3/802.3u/802.3ab/802.3z
Power and POL
Complies to IEEE 802.3at/af POE
Simultaneous transmission of Ethernet data and POE Power over UTP wire/coaxial cable
Centralized management of power supply
Eliminated the need for local power supply at remote sites
Long transmission distance up to 1000 m
Smart detection for presence of remote devices
Transmission VDSL2 :
VDSL2: IUT G.993.2,
Profile 30a, 17a, 12a, 12b, 8a, 8b, 8c and 8d
802.1d L2 Bridging
Functions ''Interleave'' active/un-active and selection of Ration signal on noise (SNR) at 6 or 9dB to optimize the transmission.
Ethernet :
VLAN: 802.1q tagging
VLAN Stacking (Q-in-Q)
IGMP Snooping/Proxy V1, V2 & V3
Multicast forwarding Snooping v1 and v2
Up to 512 Multicast Channels
Profile-based Multicast Access Control (Up to 8 profiles)
IEEE 802.1d STP
IEEE 802.3ad Link Aggregation
DHCP client and Relay Option 82.
Management  : 
Console Port RS232
Telnet CLI, Web HTTP / SNMP management
Remote In-Band management : Web/Snmp:Telnet.
TFTP for firmware upgrade.
Support SNMP v1/v2/v3
LED indicators :
System Power
Gigabit Port *2 : Link/ACT, Speed 100/1000
Alarm : Run / Alarm
VDSL Link * 8 : VDSL Link/Sync
POE * 8 : POE Link / Off
Physical and Power supply :
Rack 19'' 1U 404mm x 274mm x 44,5mm
Operating temperature : –10°C to +50°C
Storage temperature : -20°C to +70°C
Power supply AC 110/230V
Maxi consumption 500W with full 8 VDSL POL
Automatic short circuit protection
Power usage statistics and monitoring
Regulatory Compliance :
Certification: CE, FCC part 15 class B
Future certification*: 61000-6-2*, 61000-6-4* and EN51012-4 for Railway stations.
| | |
| --- | --- |
| SWM-8VDPW-2CB | 8 ports VDSL2 PTM Layer2 switch, 2 wires, master/CO, POL of 8 remote devices |
| Accessories  |   |
| CA-RJ11M-RJ45M-2W50    |  RJ11-M to RJ45-M 2 wires AWG22 0.65mm length 50cm. |
| PAN-1U-16RJ45RJ45 | 1U 19''  Panel, 16 RJ45/RJ45 Voice, DSL application |
| CA-8RJ11M-RJ45M-2W30 | 8 *RJ11-M to RJ45-M, 2 wires AWG22 .0.65mm, length 30cm |
| CA-RJ11-BNC | RJ11 to BNC with impedance adaptation,  5cm of coaxial cable. |
| PAN-8BNC-8RJ11-03 | 1U 19'' pan , 8 BNC-F on front, back 30cm cable with 8 RJ11 terminaison |
| Remote CPE  |   |
| VDDCOAX-H-4TPOE-S     | CPE modem VDSL2 PTM slave, 2 wires or BNC coax , Ethernet bridge 100/100Mbps , 300m, 4 ports POE        |
| VDD2-HT-4TPOE-S | CPE modem VDSL2 PTM slave, 2 wires torsadé, Ethernet bridge  100/100Mbps , 300m, 4 ports POE |
| VDD2-I-TPOE-S | CPE modem VDSL2 PTM slave, 2 wires torsadé, Ethernet bridge 100/100Mbps , 300m, 1 port POE |