VDDCOAX-H VDD2-HT 4TPW-M/4TPOE-S
VDDCOAX-H-4TPW-M and VDDCOAX-H-4TPOE-S  provide 100 Mbps Ethernet access over a copper line or coaxial with remote power feeding and POE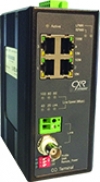 VDD2-HT-4TPW-M and VDD2-HT-4TPOE-S  provide 100 Mbps Ethernet access over a copper line with remote power feeding and POE , compliant with Raiways substation EN50121-4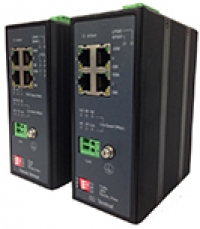 VDD2-H VDSL2 modems extend Ethernet link over telephony copper pairs.
The remote site is fully powered from the CO modem to feed remote equipment such as WIFI access points, video camera, IP phones, etc. The remote POE source delivers 30 W as per IEEE 802.3at
VDD2-H is an industry grade design with DIN rail mounting.

Transmission:
VDSL2  G.993.2 , profiles 30a et 17a
Ethernet bridge Transport over VDSL2 use EFM PTM
Support:
Over twisted pair 0,5mm  to 1mm for:
- VDDCOAX-H-4TPW-M:/-H-4TPOE-S: or
- VDD2-HT-4TPW-M:/-HT-4TPOE-S:
Over coaxial cable BNC for only :
- VDDCOAX-H-4TPW-M:/-H-4TPOE-S: Ethernet interfaces:
Local/CO VDDCOAX-H-4TPW-M:  4 x 10/100BaseT ports RJ45
Remote CPE VDDCOAX-H-4TPOE-S: 4 x 10/100BaseT POE source ports  IEEE802.3at PoE (PSE) up to 30W.
- If POL feeding:  30W are shared on the 4 ports. In this mode LEDs show the available power.
- If local DC45 power 30W are available per port.
Auto-negotiated ports: rates 10/100Mbps, full/half duplex, MDI/MDIX.
Compliant to: IEEE 802.3, 802.3u,802.3x, 802.1p, 802.1Q and for POE source (PSE) IEEE802.3af and  IEEE802.3at
Ethernet bridge
Supports Ethernet 2Kbytes frames(MTU), MAC address memory: 2K
Set-up:  By DIP-Switches for: High speed profile 30a/Long distance 17a, Impulse noise Bruit filter (on/off), SNR margin filter (6dB or 9dB)
CO VDDCOAX-H-4TPW-M power supply:
Input -38 to -58 VDC, (terminal block)
Consumption 65W with full POL of the DSL line.
Protection of polarity inversion.
POL at 96V and 0.9A with K21 protection against short circuit of line or over-current. Option AC/DC 48v 120W converter.
CPE VDDCOAX-H-4TPOE-S power supply:
- from the line in POL
- locally input -38 à -58 VDC, (term. block) consumption 5W + POE maxi 4 x 30W.
Environment:
Working temperature: -40 to +75°C
Storage temperature:  -40 to +85 °C
Humidity 5 to 95% RH  (non-condensed)
Compliance
EN60950-1, EN55022, CE, UL508, VCCI, FCC part 15 Class B, RoHS and WEEE
EMC : CE, FCC-Part15 class A
EN-61000-6-2, 61000-6-4
EN50121-4 for Railway substation for the version  VDD2-HT-4TPW-M and VDD2-HT-4TPOE-S with twisted pair only.
Mechanical
Aluminum case IP30, Fanless
DIN-Rail and panel fixing supply
Dimensions
135 (H) x 106,5(D) x 62 (L) mm , Weight 700g
MTBF : VDD-4TPW : 28 years; VDD-4TPOE = 26 years
| | |
| --- | --- |
| VDDCOAX-H-4TPW-M                      | VDSL2 PTM modem CO, 2 wire and coax BNC, Ethernet bridge 100/100Mbps at 300m,65Mbps at 600m, 4 10/100BT port, VLAN transparent. Give the Power over the line (in POL) to the distant modem bridge VDDCOAX-H-4TPW-S. Power supply 48Vdc or with optional AC/DC converter. |
| VDDCOAX-H-4TPOE-S | VDSL2 PTM modem CPE, 2 wire and coax BNC, Ethernet bridge 100/100Mbps at 300m,65Mbps at 600m, 4 10/100BT port POE PsE 802.3at (30W for 4 ports), VLAN transparent. Power by CO/Master VDDCOAX-H-4TPW-M or  SWM-8VDPW-2CB switch. Or local 48Vdc port. |
| VDD2-HT-4TPW-M | VDSL2 PTM modem CO, 2 wire twisted pair, Ethernet bridge 100/100Mbps at 300m,65Mbps at 600m, 4 10/100BT port, VLAN transparent. Give the Power over the line (in POL) to the distant modem bridge VDDCOAX-H-4TPW-S. Power supply 48Vdc . Compliant to EN50121-4. |
| VDD2-HT-4TPOE-S | VDSL2 PTM modem CPE, 2 wire twisted pair, Ethernet bridge 100/100Mbps at 300m,65Mbps at 600m, 4 10/100BT port POE PsE 802.3at (30W for 4 ports), VLAN transparent. Power by CO/Master VDDCOAX-H-4TPW-M or  SWM-8VDPW/SWM-8COAX switch. Or local 48Vdc port.  Compliant to EN50121-4. |
| VDD2-I-TPOE-S | VDSL2 PTM modem CPE, 2 wire twisted pair, Ethernet bridge 100/100Mbps at 300m,65Mbps at 600m, 1* 10/100BT port POE PsE 802.3at (30W), VLAN transparent. Power by CO/Master VDDCOAX-H-4TPW-M or  SWM-8VDPW/SWM-8COAX switch. Or local 48Vdc port.  Compliant to EN50121-4. |