IEC-61850 communications with PTP and HSR/PRP services
Communications of the electricity distribution and transport networks are now based on the IEC-61850-3 standard that brings many benefits including operability between equipment vendors.
PTP IEEE 1588 v2 provides high accuracy synchronisation that is required for phase measurement, protection systems and event stamping.
HSR and PRP protocols ensure zero packet loss protection in case of network failure.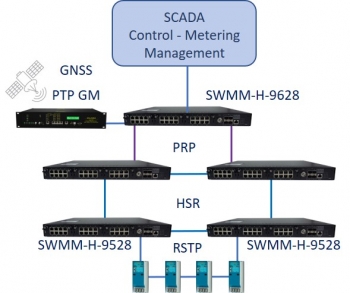 SWMM-H-9628 10 Gigabit Ethernet switch provides all those features with many other benefits for IEC-61850 communications.
SWMM-H-9628 is a modular swith with 3 slots that brings a great flexibility to suit any substation requirement between 12 and 28 Ethernet ports. 
Its 4x 10GE uplink ports and rich feature set including layer 3 OSPF and VRRP provide great performance to mission critical networks.
Specifically for IEC-61850 communications, it supports PTP 1588 v2 with Power Profile and HSR/PRP for Goose message resiliency. 
SWMM-H-9628 supports PTP 1588 Transparent Clock and Boundary Clock modes from a PTP Grand Master Clock such as VCL-2156