SWD-I-5TX
SWD-I-5TX is an industry grade Ethernet switch with DIN rail mounting that delivers five Fast Ethernet ports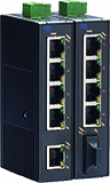 SWD-I-5TX is an industry grade switch for DIN rail mounting that delivers either five Fast Ethernet RJ45 ports, or four RJ45 ports and one optical 100FX interface.
This is an industrial product with a 12 to 48 Vdc power input that is qualified to operate in difficult environments with operating temperatures in the range of -10 to +60 °C. It is immune to industrial electromagnetic interferences. 
SWD-I-5TX is a high quality non-manageable automatic switch. It is very easy to install and operate in any application that does not require Ethernet access device management. It comes as a compact DIN rail format product, 26 mm wide.
SWD-I-5TX is a high reliability fan-less industrial design aimed at serving the most stringent industry requirements.
Ethernet

4 or 5x 10/100BaseT Ethernet ports, RJ45
1 or 0x 100FX optical port, SC connectors
Environment
Size: 26 x 70 x 110 mm 
Operating temperature: -10 to +60 °C
Power supply: 12 to 48 Vdc
EMI: EN61000-6-2 
SWD-I-5TX             Industrial Ethernet Switch, 5x 10/100BaseT RJ45 ports 
SWD-I-4TX-FM     Industrial Ethernet Switch, 4x 10/100BaseT RJ45 ports  and 1x 100FX optical port, Multi-Mode 2 km 
SWD-I-4TX-FS20  Industrial Ethernet Switch, 4x 10/100BaseT RJ45 ports  and 1x 100FX optical port, Single-Mode 20 km