LEA ST330
ST330 helps testing subscriber lines for xDSL services and controlling ADSL/ADSL2 and VDSL2 physical connections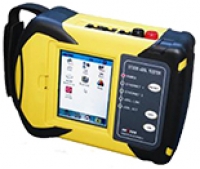 ST330 is a field test instrument aimed at measuring xDSL line characteristics and controlling ADSL and VDSL connections.
Line tests include AC and DC voltages, capacitance, loop and isolation resistances to assess whether a subscriber line could support ADSL and VDSL services.
ST330 performs ADSL/ADSL2 and VDSL2 physical layer tests. It can emulate a Customer Premise Equipment to check the connection to DSLAM. It displays connection quality results such as signal power, attenuation, noise margin, up and downstream speeds, and DLAM information. ST330 complies with ADSL/ADSL2 and VDSL2 standards.
ST330 enables IP test (Ping, Tracert) and web page browsing.
ST330 is a field test equipment. Its robust design with compact size and reduced weight makes it a perfect test set in any circumstances. It embeds a wide LCD display with intuitive menus for an efficient operation. ST330 works on battery for 8 hours before recharge.
ADSL - VDSL
ADSL: G.991.1/2/5
VDSL2: G.993.2
G.hs : G.994.1
AC/DC Measures - DMM Tests
Loop and Isolation ResistanceRésistance de boucle et d'isolement
AC / DC voltage
Capacitance
ADSL / VDSL test
Power
Attenuation
Noise margin
Speeds
Errors: CRC, FEC, HEC, LCD, NCD, OCD
DSLAM information
IP Tests 
Environment
Size: 176 x 130 x 60 MM
Weight: 0.7 kg
Operation on battery : 8 hours
ST330-VDSL   ADSL/ADSL2 and VDSL2 tester
ST332B             ADSL/ADSL2 tester