GP-250 GPON ONT
GP250 GPON ONT's provide all required connectivity to Enterprises and Hospitalities to support their Tripple Play Internet, Voice and Video services

GP250 ONT's are GPON network access devices that provide users with high bandwidth Tripple Play Internet / Voice / Video services. Four products make a complete range of solutions with a choice of Ethernet ports, Wi-Fi, VoIP and CATV options. 
GP250 ONT's are totaly plug-and-play. They connect automaticaly to GP2500 OLT without any setting requirement. GP250 ONT are fully controlled by the GP2500 OLT.
GPON is an optical access network technology that enables significant cost savings thanks to straight forward installation and multiple user connections over a single fiber infrastructure.
CXR GP250 ONT's are higly appreciated for their best value for price, high quality and broad choice of user communication interfaces.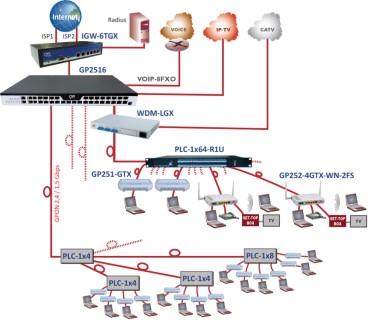 Two OLT products are offered to connect to either 8 or 16 GPON lines and up to 2,048 GP250 ONT's and users.
- ONT GPON ITU-T G.984, G.988
- 1x integrated GPON optical interface
- GP251: Bridge to 4x 10/100/1000BT ports
     dimensions: 130x100x30 mm
- GP253: Bridge and router to 4x 10/100/1000BT and 802.11ac Wi-Fi
     2x VoIP ports
     dimensions: 138x205x50 mm      
- GP254: Bridge and router to 4x 10/100/1000BT and 802.11bgn Wi-Fi
     2x VoIP ports,      1x RF TV plug for CATV services
     dimensions: 138x205x50 mm
- GP256: Bridge and router to 4x 10/100/1000BT and 802.11bgn Wi-Fi
     2x VoIP ports, 1 USB host
     dimensions: 140x205x36 mm (without antenna) 
GP251      GPON ONT bridge with 1x optical interface and 4x 10/100/1000BT Gigabit Ethernet port and external mains power converter
GP253      GPON ONT router - bridge with 1x optical interface and 4x 10/100/1000BT Gigabit Ethernet port, 802.11ac Wi-Fi, 2x VoIP and external mains power converter
GP254      GPON ONT router - bridge with 1x optical interface and 4x 10/100/1000BT Gigabit Ethernet port, 802.11bgn Wi-Fi, 2x VoIP, 1x CATV RF plug and external mains power converter
GP256      GPON ONT router - bridge with 1x optical interface and 4x 10/100/1000BT Gigabit Ethernet port, 802.11bgn Wi-Fi, 2x VoIP and external mains power converter 12VDC