GP-5606 GPON OLT
GP-5606 GPON OLT
GP-5606 complies with ITU-T G.984/G.988 & meets requirements about GPON OLT in Network Access Technical Requirements.
It fully supports CTC2.0, automatic discovery and cooperation with ONUs of different manufacturers.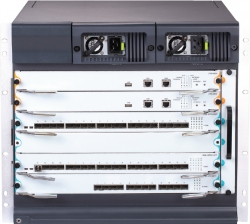 GP-5606 supports the symmetric uplink 1.25Gbps/downlink 2.5Gbps PON transmission rate, efficient bandwidth usage and Ethernet services, helping carriers to provide reliable services to their users. Its coupling ratio ups to 1:128, and its support of different hybrid ONU networks minimize the carrier's investment.
GP-5606 based on the edge-cutting technologies, is strong in functions.
A few of its functions can be easily listed out such as:
GPON: Abiding by ITU-T G.984/G.988, CXR GP5606 Series meets relevant requirements of GPON OLT regulated in Network Access Technical Requirements.
Well Interaction: Automatic discovery and compatible with ONT.
Hardware Redundancy: Dual main control, dual power redundancy. Hot Swap: GP-5606 Series adopts the modularized designed. Each service card hot swap
System Capacity: GP-5606 Series supports 128 PON ports and at most 16K ONT.
Environmental Protection: Low power consumption and low operating cost.
Bus Optical Fiber Protection: The link can be automatically switched when trouble occurs in the optical fiber.
Power Characteristics: Supports dual-AC, dual-DC and AC/DC power supply. The power supply supports modularized design, hotswap and EMC-3 standard. It well adapts to the environment.