CXR announces the introduction of the SpeederLanBis-GE, a new Ethernet First Mile aggregation extender with full Gigabit Ethernet architecture
CXR, the first company to deliver a complete range of Ethernet First Mile SHDSL products dedicated to mission critical networks, is very excited to announce the introduction of the SpeederLanBis-GE, a new Ethernet First Mile Extender with a full Gigabit Ethernet architecture.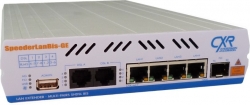 SpeederLanBis-GE enables very high speed Ethernet traffic for Internet, WIFI access, voice, video and other data services over bonded copper lines. SpeederLanBis-GE is especially aimed at delivering Ethernet and IP communications for mission critical networks such as Intelligent Transport Systems, Defense, Service Providers and Utility infrastructures.
SpeederLanBis-GE provides one Gigabit optical SFP, four Gigabit Ethernet ports, one USB Host – Device port and height SHDSL interfaces with Point to Point and Point to Multi Point topologies with Star, Daisy Chain and Resilient Ring functions.
SpeederLanBis-GE brings several innovative and valuable functions that raise it above other available products:
Full Gigabit Ethernet architecture: SpeederLanBis-GE differentiates from all other SHDSL products by its highest switching capacity ASIC and Gigabit Ethernet ports which produce best performance and scalability.
Flexible topologies: SpeederLanBis-GE supports any topology such as 120 Mbps point to point, Star, Daisy-Chain and resilient ring with 60 Mbps symmetrical bandwidth.
Mini DSLAM Star operation: SpeederLanBis-GE runs even as a height ports DSLAM to aggregate traffic from remote devices or networks with one, two or four pair connections. This flexibility makes it an absolutely unique solution on the market with the lowest price and highest density to aggregate numerous SHDSL lines.
Redundant power supply: SpeederLanBis-GE extends resiliency and power redundancy to mission critical applications thanks to two embedded DC power converters. This option gives as much resiliency as complex systems but in a more compact and affordable package.
Extensive management services: SpeederLanBis-GE supports not only all network management protocols such as SNMP, HTTP/HTTPS, SSH, but also automated software and configuration upgrades and savings through a USB memory stick that gives easier on-field maintenance.
SpeederLanBis-GE is now available.
Please feel free to get in contact with CXR and its partners for trial, price and delivery.