GPON FTTH Internet access
GPON technology is aimed at connecting users to the Internet through a high speed fiber optic network that is most efficient in terms of infrastructure, time to service and return on investment.
CXR range of GPON products is very well suited for medium density areas with an integrated OLT and a comprehensive choice of ONT customer devices.
This portfolio includes also industrial CE2.0 Carrier Ethernet products for 10 Gigabit connection in distribution sites.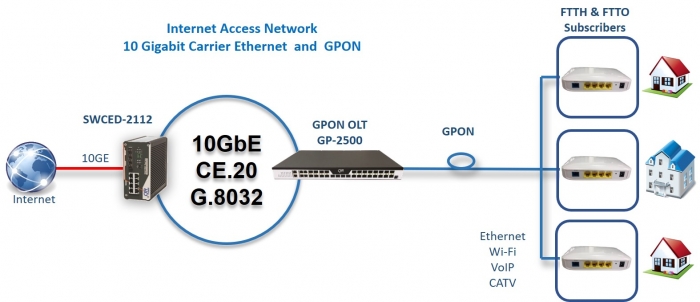 GP2500 OLT delivers 8 or 16 GPON interfaces in a compact 1U/19'' format to serve 2,000 subscribers. It has several 10 Gigabit Ethernet up-link ports and redundant power supplies for best service availability.
The range of GP250 ONU's includes single Gigabit Ethernet model to connect to an Internet set-top box as well as equipment with multiple user interfaces such as Ethernet, Wi-Fi, VoIP, CATV.
Service Providers will get a broad choice of solutions from CXR catalog including CE2.0 Carrier Ethernet devices, GPON splitters, synchronization servers, test and measurement products.
For more information:
GP2500 : GPON OLT 
GP250 : range of GPON ONU
SWCED-2112 : industrial 10 Gigabit Carrier Ethernet equipment