From 10 GigE Carrier Ethernet backbone to the remote POE+ switch
Utility networks were based on synchronous communications such as SONET/SDH or E1/T1 multiplexers which sustainability becomes questionable since product obsolescence, lack of scalability and security, poor flexibility for newer applications, new engineer skills, etc.
CXR helps Ethernet deployment in the industry networks with a unique range of 10GE Carrier Ethernet switches and ruggedized switches for access to substations and other remote systems.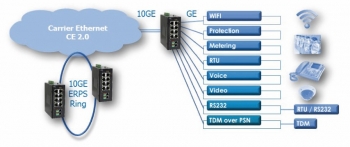 The 10GE Carrier Ethernet switch complies with the MEF 2.0 standard and it brings all advantages of an established and highly performing technology that engineers are well in control of and that protects long term investments through scalability, resilience, predictability, low latency, flexibility, etc.