GPON Optical Internet Access
GPON Optical ACCESS - GP-2508 - GP-2516
This new range of GPON products provides higher density in a compact 1U/19'' chassis with either stand-alone Web interface or NMS software management to connect up to 512 or 2,048 subscribers to Triple-Play Internet, VoIP and CATV services with significant cost savings.

GPON is an optical access network technology that enables significant cost savings thanks to straight forward installation and multiple user connections over a single fiber infrastructure.
CXR GP2500 is highly appreciated by telecom service providers for its high level of integration to deliver 16x GPON interfaces in a compact 19''/1U chassis with two redundant power supplies.
GP2500 is also a perfect stand-alone solution for smaller requirements thanks to its plug-and-play operation and very easy management from a user-friendly web interface.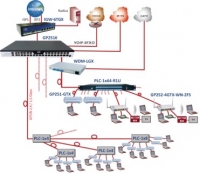 CXR GP250 ONT's are offered with a broad choice of communication interfaces such as Gigabit Ethernet ports, Wi-Gi, Voice over IP (VoIP) and video (CATV). Their connection to GP2500 OLT is totally plug-an-play.
Please contact CXR for more information