CXR Technical Mornings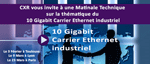 CXR seminar on 10-Gigabit Carrier Ethernet technologies.
CXR presents several free seminars in February and March 2016 on Carrier Ethernet technology and its practical implementation on a multi-service demonstration platform.
The seminar explains the values of several high speed Ethernet technologies but also and why and how CXR Carrier Ethernet solutions enable faster adoption of 10-Gigabit Ethernet in mission critical networks.
To register : 10GE Carrier Ethernet
And for more information : Contact us