Voice frequency channel emulation over IP
Utility infrastructures have voice frequency communication networks for engineering and maintenance organization as well as for connecting RTU equipment that embeds a 300 - 3,400 Hz voice frequency modem.  Such Analog Leased Line and Voice Frequency services are discontinued by Telecom operators which create concerns for long lasting infrastructures. 
CXR has developed a Voice Frequency to IP gateway device that is aimed at enabling a smooth migration of such communications over an IP network. 
The CIP-ALL product delivers E&M or Leased Line, FOX and FXS interfaces to existing systems. The Voice Frequency communication is digitalized and transferred over the IP network with perfect quality - very low latency and no distortion that support RTU modem communications.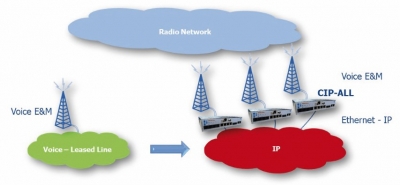 This solution extends existing system life and it saves on communication OPEX thanks to the IP network convergence.