MuxPonder-5000-2
Le MuxPonder-5000-2 DCI/OTN est un châssis de transmission optoélectronique WDM DCI 2U
Conçu pour l'interconnexion de Data Center (DCI), offre une intégration élevée (intégration optoélectronique), une large bande passante (25,6 Tbits/fibre), un déploiement simple (pas de réglage compliqué), une utilisation et une maintenance faciles (NETCONF/YANG) ainsi que la sécurité et la fiabilité.
Il peut répondre à la demande croissante de bande passante entre les Data Center, réaliser un déploiement flexible des équipements, créer une architecture de réseau optique ouverte et conduire le marché DCI dans une nouvelle ère d'interconnexion tout optique à haut débit.

Main System: 

Product Name

Model

Classify

CWDM / DWDM System
MuxPonder-5000-2
400G, 200G, 100G, 40G, 25G, 10G, 2.5G
DCI / OTN System
MuxPonder-5000-1
400G, 200G, 100G, 10G
5G Fronthaul WDM System
Semi-Active / Passive
25G, 10G
OLS Open Line System
MuxPonder-5000-OLS
Any
Integrated DWDM System
MuxPonder-5000 P
100G, 10G
Aggregation and Distribution System
ST-X48C6, ST32C
100G, 10G

Sub-system: 

Product Name

Model

Classify

Network Management System
OTNS2000
Web, NMS, GUI
Optical Amplifier System
OA, VOA
EDFA, OEO, Raman, SOA
Optical Protection System
OLP, OBP
1+1, 1:1
Optical Dispersion Compensation
DCM, TDCM
5~120km
Passive Mux / Demux System
TFF, AWG
4~ 96 CHs
OADM (Optical Add-Drop Multiplexer)
FOADM, ROADM
2 directions, 9 directions
Optical Monitoring
OCM, OTDR
Optical channel / line monitoring
Optical Transceiver
 
CFP2, QSFP28, QSFP+, SFP28, SFP+, SFP
Caractéristiques : 
Adopt optoelectronic integrated, pluggable modular design; components support hot-plugging, deploy and expand on demand.
Front-air and rear-air cooling design, 2+1 FRU fan units available, automatic speed adjustment supported.
19" / 600mm Depth cabinet can be installed, suitable for data center rooms and can be deployed with IT equipment in common cabinets.
Transmission capacity up to 25.6Tbit/s per pair @ C+ band 400G*64λ, up to 3.2Tbit/s per subrack.
Single wave capacity up to 400G, continuous evolution towards 600G & 800G & 1.2T.
Optical layer card highly integrated with OA, WSS, VOA, OSC, OTDR, OCM, OLP, etc. to simplify internal fiber connectivity.
Supports 10GE, 100GE, 100GE FlexE (Unware), 400GE, STM-64, 10GE WAN, OTU2, OTU4 and other service access.
Supports 9-degree ROADM networking and FlexGrid.
Supports comprehensive performance monitoring and quality visibility at the service, OTN and optical layers.
Provides multiple multi-layer network-level and device-level protection solutions. Protection reversal delay<50ms, ensuring superior protection performance.
Supports NETCONF/YANG standard open interface and GUI management platform based on B/S architecture.
Small network: single platform with high density optical layer card + electrical layer card for point-to-point networks.

Medium / large network:stacking of multiple electrical layers + multi-degree ROADM to form a ring network.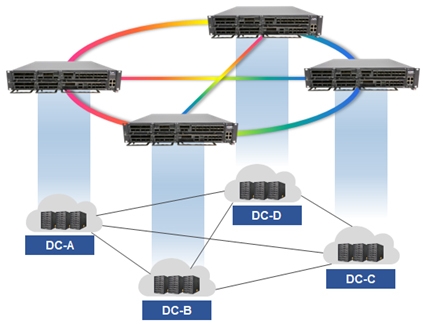 Parameter

Description

Chassis
Dimensions (H x W x D)
2U: 88 mm (H)×446 mm (W)×450 mm (D)
Maximum capacity
3.2Tbit/s
Number of service card slots
8
Applicable cabinets
19" cabinet 600mm or deeper
Line-side port
Rate

200G (PDM_QPSK) programmable

200G (PDM_8QAM) programmable

200G (PDM_16QAM) programmable

400G (PDM_16QAM) programmable

Optical module
Pluggable CFP2, wavelength adjustable
Client-side port
Service type
10GE, 100GE, 100GE FlexE(Unware), 400GE, OTU2, OTU4, STM-64 and 10GE WAN
Optical module
Pluggable SFP+, QSFP28
Max. number of wavelengths
Fixed grid: 96 wavelengths @50 GHz
Channel spacing
Fixed grid: 50 GHz / 75 GHz / 100 GHz / 150 GHz
Central frequency range
191.35 GHz ~ 196.1 GHz
Central wavelength range
1528.77 nm ~ 1566.73 nm
Protection function

Optical line protection (OLP)

Optical multiplexed segment protection (OMSP)

Optical channel protection (OCHP)

Network management

Supports main controller 1+1 backup

Supports CLI, NETCONF and B/S based GUI management platform

Support OSC based DCN communication

Power supply
Back-up
Standard CRPS power supply 1+1 backup
AC

Rated voltage range:

100 V AC~130 V AC (50/60Hz)   

200 V AC~240 V AC (50/60Hz)

Max. voltage range: 90 V AC~264 V AC (45Hz~65Hz)

HVDC

Rated voltage range: 240 V HVDC

Max. voltage range: 192 V HVDC~288 V HVDC

DC

Rated voltage range: -48 V DC/-60 V DC

Max. voltage range: -40 V DC~-72 V DC

Heat dissipation

Front inlet air and rear outlet air

2+1 Fan units backup

Typical power consumption
Consumption: < 1100W (Electric layer full match) 
Environment
Operating temperature
Short-term: -5℃~+45℃; Long-term: 0℃~40℃ 
Storage temperature
-40℃~+70℃
Humidity 
5%~95% (no condensation)
| | |
| --- | --- |
| MuxPonder-5000-2 | Châssis 2U DCI, 8 services slots, 1 contrôleur principal, double alimentations AC/HVDC/DC, 2+1 backup ventilateurs auto-régulés, 1 CONSOLE et 3 ETH management ports, consommation totale maximum <1100W, montage en  19" cabinet 600mm ou plus profond. Dimensions chassis (88 mm (H)×446 mm (W)×450 mm (D) |
| MuxPonder-5000-2-8 | Châssis 2U DCI, 8 services slots, 1 contrôleur principal, double alimentations AC/HVDC/DC, 2+1 backup  ventilateurs auto-régulés, 1 CONSOLE et 3 ETH management ports, consommation totale maximum <1100W, montage en 19" cabinet 600mm ou plus profond. Dimensions chassis (88 mm (H)×446 mm (W)×450 mm (D) |
| MuxPonder-5000-2-2CPU | Châssis 2U DCI, 8 services slots, 1+1 contrôleur principal, double alimentations AC/HVDC/DC, 2+1 backup ventilateurs auto-régulés, 1 CONSOLE et 3 ETH management ports, consommation totale maximum <1100W, montage en  19" cabinet 600mm ou plus profond. Dimensions chassis (88 mm (H)×446 mm (W)×450 mm (D) |