VDD2-H-4TPW-M & VDD2-H-4TPOE-S
VDD2-H-4TPW-M and VDD2-H-4TPOE-S  provide 100 Mbps Ethernet access over a copper line with remote power feeding and POE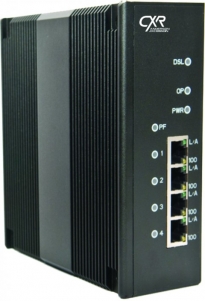 VDD2-H VDSL2 modems extend Ethernet link over telephony copper pairs.
The remote site is fully powered from the CO modem to feed remote equipment such as WIFI access points, video camera, IP phones, etc. The remote POE source delivers 30 W as per IEEE 802.3at
VDD2-H is an industry grade design with DI Nrail mounting.

 Product References 
VDD2-H-4TPW-M  : VDSL2, CO - Master modem, 4 Ethernet ports, 48 Vdc power input
VDD2-H-4TPOE-S : VDSL2 CPE - Slave modem, 4 Ethernet ports with POE, remotely powered from the CO modem