VDD2-H-4TGX-HS
The VDD2-H-4TGX-HS VDSL modem enables 300 Mbps Ethernet extension on a single telephony copper line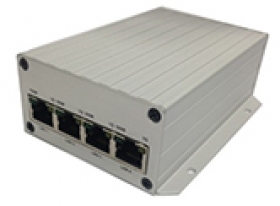 VDD2-H-4TGX-HS provides long reach Ethernet at 190 Mbps down stream and 110 Mbps upstream speeds over a telephony copper pair line according to the VDSL2 G993.2 industry standard.
Maximum speed depends on the line length between 300 Mbps for a 150 meter line to 35 Mbps on a 2 km line. A Master and a Slave modems are required to stablish a connection and this seletion is defined by a simple product setting. Modems share the line with the voice frequency band in inserting a Splitter.
VDD2-H-4TGX-HS delivers 4 Gigabit Ethernet interfaces. It comes as a compact metallic enclosure that fits any industry integration requirement with an extended operating temperature range.
VDSL interface 
RJ45
coding: DMT
ITU-T G.993.1, G.993.2, G.997.1
Ethernet interfaces 
4x RJ45
10/100/1000 BT
IEEE 802.3, 802.3u, 802.3z
Setting
dip switches
mode: CO/CPE
Fast or Interleave mode 
VDSL2 profil: 30a or 17a
SNR margin: 6 or 9 dB
Misc
size: 117x 90 x 40 mm
operating temperature range: -40 to +75 °C
VDD2-H-4TGX-HS          VDSL2 modem, one VDSL2 / 2 wires interface, 4 Gigabit Ethernet ports, 7 to 21 Vdc power input
VDD2-H-4TGX-HS-AC    VDSL2 modem, one VDSL2 / 2 wires interface, 4 Gigabit Ethernet ports, with a mains 110-230 Vac to 12 Vdc power converter