VCL-2424-DIN-DC
The VCL-2424-DIN-DC is a compact, industrial grade DIN Rail mounted GPS / GNSS, ITU-T G.811 Primary Reference Master Clock (PRC), PTP IEEE-1588v2 Grandmaster and NTP Time Server synchronization solution.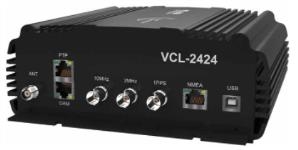 It is designed to be installed in harsh environments to provide highly precise time and phase synchronized frequency and time of day references.






User applications include solar farms, wind-farms, electric sub-stations, power distribution infrastructure, railways and metro signaling infrastructure, airports and air-traffic control facilities, 2G, 3G and LTE mobile cell towers, off-shore oil and gas rigs and naval vessels that are required to operate in complete isolation due to the very nature of their application, geographical location or due to security reasons. 
 GPS L1 frequency, C/A Code Receiver
 Tracks up to 12 satellites simultaneously for GPS
 Tracks up to 24 satellites simultaneouslyfor GNSS (GPS+GLONASS)
 Synchronizing Time:

Acquisition time - Hot Start: Less than15 sec.
Acquisition time - Warm Start: Lessthan 45 sec.
Acquisition time - Cold Start: Lessthan 140 sec.
 GPS Signal

Tracking and Navigation: -162 dBm
Reacquisition -160 dBm
Cold Start -148 dBm
Integrated GPS Antenna
VCL-2424-DIN-DC      PTP / NTP time server VCL-2424-D. PRC with GPS input and OCXO oscillator. Outputs: 1xNTP, 1xPTP, 1x 1PPS, 1x 2.048MHz, 1x 10MHz, 1x NMEA. Industriel design with DIN rail mounting, 12/24 Vdc power input. 30dB GPS antenna and 10 meter cable