SWM-8VDP2-2CB
SWM-8VDP2-2CB delivers VDSL2 Ethernet services at 100 Mbps over 8 telephony copper lines

SWM-8VDP2-2CB embeds 8 VDSL2 modems and voice splitters to provide 100 Mbps Ethernet access to 8 remote modems. The VDSL transmission speed is 100 Mbps on a 300 meters line, and 5 Mbps on a 3 km line.
SWM-8VDP2-2CB has two Gigabit Ethernet up-link ports and all required protocols to enable high speed Internet access from remote modems: VLAN, Provider Bridge (Q-in-Q), QoS, DHCP relay.
The remote CPE modem is a VDP2-2TTX product and a Splitter in case voice is used on the same copper line. VDP2D-I-4TTX is used when industry grade product or 4 Ethernet ports are required. VDR-4TTX-WF bings a WIFI 802.11b/g/n access to the remote sites.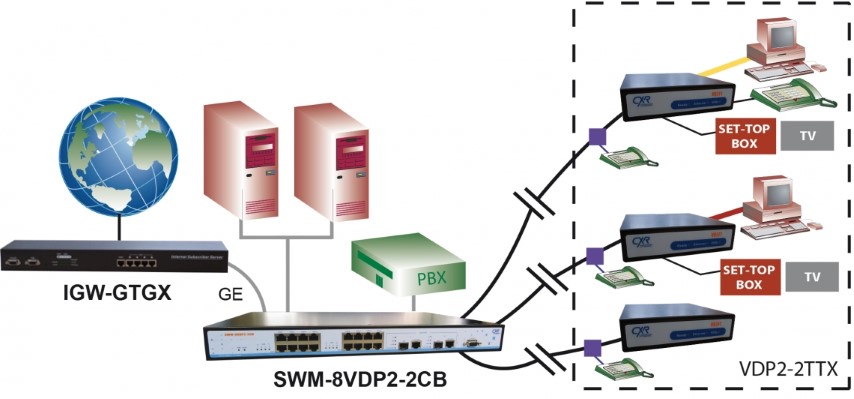 Product Reference
SWM-8VDP2-2CB  :  8 line VDSL2 concentrator - switch, embedded voice splitters, 2x Gigabit Ethernet ports
CPE Modems
VDP2-2TTX : VDSL2 modem, 2 Ethernet ports, 110-230 Vac power supply
VDP2-2TTX-SR : VDP2-2TTX modem with voice splitter
VDP2-I-4TTX : VDSL2 modem, 4 Ethernet ports, industry grade with DIN rail mounting, 12-48 Vdc power input
VDP2-I-4TTX-AC : VDP2-I-4TTX modem with a 110-230 Vac power adapter
VDR-4TTX-WF : VDSL2 modem, 4 Ethernet ports, WIFI 802.1b/g/n