SW3G-44USF-4UCB
SW3G-44USF-4UCB is a modular 10 Gigabit Carrier Ethernet Switch with Layer 3 routing functions delivering 48 optical SFP Gigabit Ethernet ports and four 10 Gbe ports

SW3G-44USF-4UCB is a 10 Gigabit Carrier Ethernet switch with Layer 3 routing protocols for Gigabit access, aggregation and distribution functions from 4x 10 Gigabit Ethernet up-link interfaces. It delivers 44x 100/1000 optical SFP and 4x RJ45 / SFP combo Gigabit Ethernet ports.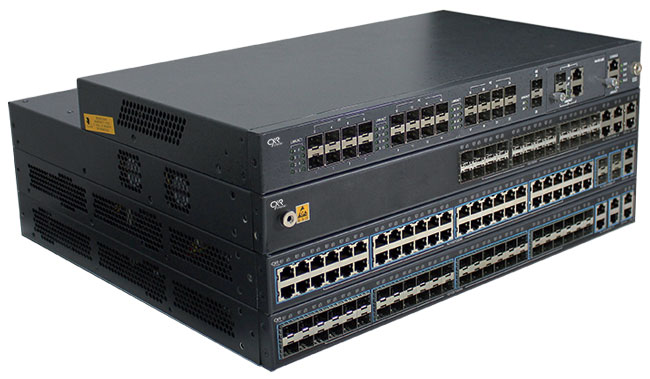 It enables Provider Bridge / Double Tag VLAN, G.8032 and 802.3ah OAM maintenance functions at the edge of a Carrier Ethernet network. Its high performance and Layer 2/3 switching capabilities, its rich set of protocols and security functions, make it a new generation equipment for the most stringent requirements of the corporate and industry networks. It embeds OSPF and BGP for routing as well as VRRP router redundancy protocols.
SW3G-44USF-4UCB comes in a 19''/1U chassis with two slots for redundant power supply cards with 110-230 Vac and 48 Vdc input options. Two up-link slots can receive dual Ethernet ports with Gigabit or 10 Gigabit options which deliver a total capacity of 88 Gigabit.
SW3G-44USF-4UCB is a highly reliable industrial design which is part of a comprehensive range of 10GE products with a choice of 24 or 48 RJ45 and SFP port options.
Interfaces 
44x Gigabit Ethernet 100/1000 optical ports, SFP sockets
4x Gigabit Ethernet ports, combo RJ45 and SFP
2x slots for 2x2 GE or 10GE ports

2XFP: 2x 10 Gigabit Ethernet XFP ports
2GE: 2x Gigabit Ethernet SFP ports
Protocols
STP, RSTP, MSTP, ERPS G.8032
802.1Q VLAN, GVRP
QoS, Flow Control, Priority Queuing to 8 queues per interface, rate limiting
IGMP 
Layer 2/3/4 packet filtering, 802.1X, Radius
IP Layer 3 routing: static, RIP, OSPF, BGP, VRRP redundancy
Ethernet OAM 802.3ah
Environment
Size : 440 x 400 x 44 mm 
Operating temperature : 0 to +50 °C
Power suply: 2 slots for power supply cards, 48 Vdc and 110-230 Vac mains input options
SW3G-44USF-4UCB-S36   Modular 10GE Ethernet Switch, 48 GbE ports and 2x GE/10GE slots, 2x power supply slots
UP-S36-2XFP                       Two 10 Gigabit Ethernet ports with optical XFP sockets
UP-S36-2GE                         Two Gigabit Ethernet ports with optical SFP sockets
PS-S36-AC                           110-230 Vac mains power suplpy card
PS-S36-DC48                       48 Vdc power suplpy card