SFP-VDSL
SFP-VDSL is a VDSL2 modem that inserts into most Ethernet network equipment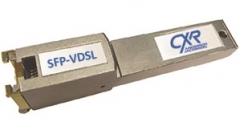 SFP-VDSL module inserts in a SFP slot of a network equipment. It provides Ethernet switch, router or gateway with the VDSL2 high speed connexion over a single pair of copper.
A pair of SFP-VDSL-CO and SFP-VDSL-CPE modules delivers point-to-point connection at 100/100 Mbps speed up to 400 meters or at lower speeds up to 3 km.
The SFP-VDSL-TELCO module connects to the DSLAM of an Internet Service Provider at speeds up to 300 Mbps. It avoids specific VDSL access equipment and enables best choice of gateway for both consumer and enterprise subscribers.
SFP-VDSL-Telco module connects subscriber network equiment to the Internet provider DSLAM at speed up to 300 Mbps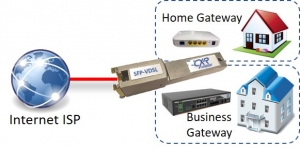 SFP-VDSL-CO/CPE modules enable multiple point-to-point VDSL2 connections at Ethernet speed up to 100 Mbps for any application such as telemetry, video, control, etc.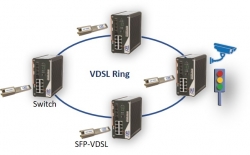 VDSL2
G.993.2
G.994.1
G.997.1
SFP-VDSL-Telcom : G.inp G.998.4 and G.vector G.993.5
SFP
Power consumption: 2.3 W
Operating temperature: -20 to +75 °C
SFP-VDSL-TELCO     VDSL2 SFP module to connect to an Internet provider DSLAM
SFP-VDSL-CO           VDSL2 SFP module to make a point-to-point connection to a SFP-VDSL-CPE module
SFP-VDSL-CPE         VDSL2 SFP module to make a point-to-point connection to a SFP-VDSL-CO module